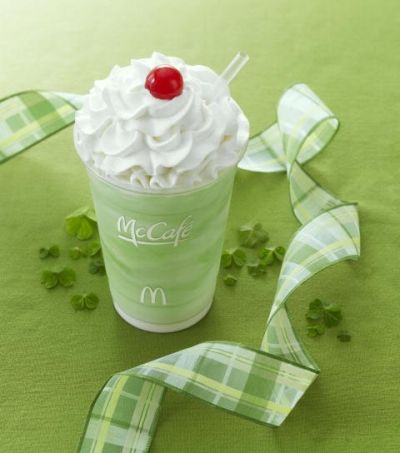 March has arrived! They say adventures come in all shapes and sizes, so my adventure for this month will be trying something new for the taste palette.

The Shamrock Shake!

I've never tried one, and I'm clueless on which establishments offer the best. McDonald's or Starbucks? I'm guessing Starbucks. I'll probably try both, but I have a feeling that I'll be happiest with my trusty mint chocolate chip ice cream from Blue Bell.

And I don't know why they don't at least have chocolate sprinkles on these shakes? As tasty as the drink seems, it looks incomplete without chocolate chips.

(Andes Mint would be perfect).

Presentation is everything. I mean, WHO doesn't like chocolate?

Answer: Nobody!!!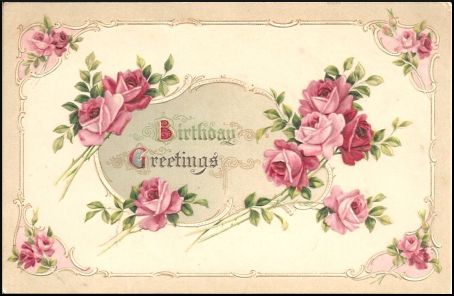 It's a special day today! My nephew turns 18, and my Dad 65.

(We share a lot of birthdays in this family. It's really pretty amazing how common it is).



Yesterday morning my niece and nephew arrived in California with their marching band. They're getting to visit DISNEYLAND and California Adventure! My niece

(16)

is drum major and she kept texting my mother, so excited about this trip. She was on the last bus to leave for Disneyland.

Since tomorrow is my nephew's birthday, we told her to make sure he gets a birthday button while there. She told Mom that they're planning a birthday party for him. They're going to have a birthday TEA PARTY with the Disney PRINCESSES!




I'm not sure who planned it, but I think his sister and girlfriend are gonna have a lot of fun with that!



Today is not only my nephew and Dad's birthdays, but it's also Texas Independence Day and Sam Houston's birthday!

(For history buffs, Sam Houston was born in 1793).



-

Click HERE for one of my favorite Texas songs.

(Embedding the video is disabled).

They used to play this on Ron Stone's "Eyes of Texas" tv show each weekend. I love the soft melody of this song.





Howdy, folks!



Yes, I couldn't resist. We really don't all say that. Okay, so some people do. You certainly hear it from the older folks in the hill country.

I thought I would share a couple videos that I found online of the trail ride. The rodeo arrived in Houston last weekend. I haven't been to the rodeo in a few years myself.





In the second video, it's Alan Jackson at the rodeo! I think he was there Thursday night.




I couldn't find any recent bull riding event videos from the rodeo, so this will have to do.





Dude, Where's

MY

cowboy?!

Mom already has one in mind for herself.

He goes by the name George Strait.







The video above is just one of the places my parents are at today. On their way to Austin, they're going to make a quick stop on our 2 acres in Owl Creek.

(Unfortunately, we're going to have to sell it).



I MUST share this photo of one of the deer that likes to eat and rest up on our land. Twin deer were born beneath one of the trees. Our neighbor told us all about it, and had to cut a small hole in the fence so that the deer could come and go as they pleased.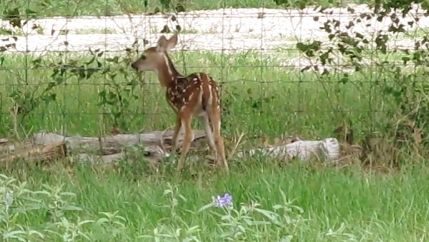 I took the pic from a video, but it was a really short video. I literally got it on tape the second we pulled the truck into the lot. I have a lot of photos of our land, but there really isn't anything there but the dilapidated barn.

Which is code for a really big shed that was used for the animals of the previous owner. Click HERE to see the view from our gate.

And click HERE to see our next door neighbors.

Cows, or "Gods of the Country" as I call them. I'm really sad about these guys not being some of my neighbors after all. The donkey in the photo is named "Hugs." She had to be bottle fed when she was born, and I swear she thinks she's a cow too! Our other neighbor used to have goats, but she no longer has them and I'm afraid I never got to see them for myself.

To view more photos and video you'll have to visit my old blog listed at the very end of the "About Me" section. From that blog, click on the label/tag "Owl Creek." I think they're also under the label "Texas" and "La Grange."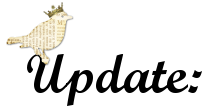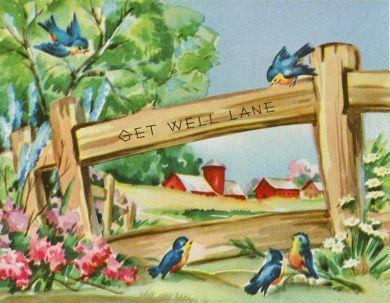 Oh, dear. I'm afraid my father had a very painful Clark W. Griswold adventure this morning.

It's Sunday now and my parents are having a terrible weekend. Not only are they exhausted, and both were more than ready to come back home last night, but now it's going to take them even longer to get home. And why?

Because of the news I received at 9 am this morning: They're in the emergency room. They didn't have time to go out to our land yesterday after all, so they went early this morning. After that, they were going to visit Grandma to drop off some furniture and stuff that my brother no longer wanted.

(Also my necklaces for her to sell, and one to give to charity. It's an auction for veterans).

But while at the land my father took a big chance. He didn't bring the ladder, so as he was trying to hang up something in the barn he used the bench. It toppled over and the metal bench became a landing strip for his face. Mom says there's basically a hole in his head, and it looks like he's going to need stitches on his nose. Also a tetanus shot, and the wounds are going to have be cleaned really well seeing how this happened in the messy old barn.

Here's the scene of the crime:



He's throwing a tantrum, not wanting to spend any money and wanting to just bandage himself up. Needless to say, Mom's got her hands full.

Dad is being all superstitious about it of course. He thinks that the land has bad juju. Mom suffered heat stroke and almost died there a few months back.

(Thank God Grandma and another relative were there that day, else she'd have been there all alone).

Since Mom was hurt there, and now Dad, he's ranting and raving about how we need to sell the land.

I just hope Dad gets out of there asap and they all get home safely. I had sort of a bad feeling about this particular trip, but a few hours after they left early yesterday morning I started feeling okay about it. I guess my first instincts were correct. Not only that, but a couple days ago I stumbled across something about a tetanus shot. How weird is the timing in that? (Of course, coincidences like that happen to me a lot).

Dad's gonna have to make up a cool story to make himself look more like a hero in everyone's eyes, opposed to another Clark W. Griswold.



Update #2:



Ouch! They had to first stitch the muscle, and then the skin. He got something like 14 stitches total. He looks pretty bad, but Mom said he looked 100 times worse when it happened. He knocked his head pretty badly.