I thought I'd share a few pics of the card and necklace that I made for Mom this year.

The photos aren't so great, but I'm striving to accept imperfection as it applies to my creative endeavors. Even the card and necklace.... I made them the best I could with the supplies I had on hand. I really want to age the necklace, but I haven't found any Gilder's Paste yet.

To all the Mommy's out there, Happy Mother's Day!




"Hundreds of dewdrops to greet the dawn,
Hundreds of bees in the purple clover,
Hundreds of butterflies on the lawn,
But only one mother the wide world over."

~ George Cooper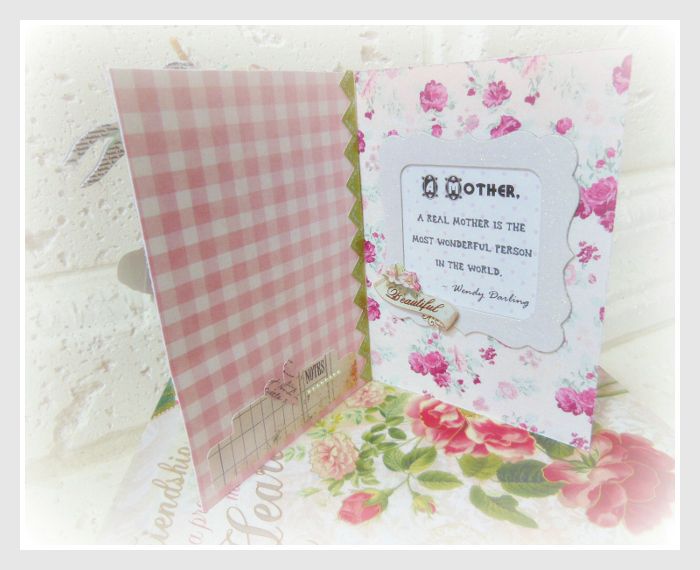 "The sweetest sounds to mortals given
Are heard in Mother, Home, and Heaven."

~ William Goldsmith Brown




"Who ran to help me when I fell,
And would some pretty story tell,
Or kiss the place to make it well?
My mother."

~ Ann Taylor




"Mother, the ribbons of your love are woven around my heart."

~ Author Unknown





And my favorite Mothers Day-ish quote passage of all!




after her children are asleep, to rummage in their minds and put things straight for next morning, repacking into their proper places the many articles that have wandered during the day. If you could keep awake (but of course you can't) you would see your own mother doing this, and you would find it very interesting to watch her. It is quite like tidying up drawers. You would see her on her knees, I expect, lingering humorously over some of your contents, wondering where on earth you had picked this thing up, making discoveries sweet and not so sweet, pressing this to her cheek as if it were as nice as a kitten, and hurriedly stowing that out of sight. When you wake in the morning, the naughtiness and evil passions with which you went to bed have been folded up small and placed at the bottom of your mind; and on the top, beautifully aired, are spread out prettier thoughts, ready for you to put on.

~ Peter and Wendy by J.M. Barrie