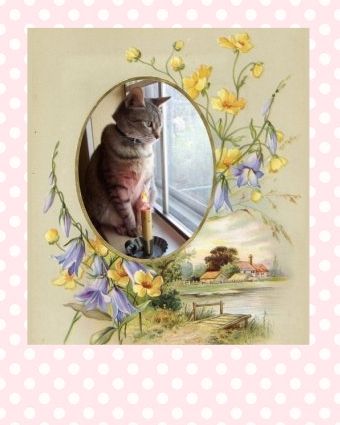 This isn't going to be a cheerful post because on Sunday night, at around 10:30 pm, Wendy Kitty passed away. She was 18 years old.

I was going to type up a special post about her, like I did with Tiger Lily last summer, but every time I begin to write something…. nothing comes. Wendy was most definitely my cat, and I was very close to her. From the time she was born, we had a bond. I can't explain it, and I won't try.

I miss her, but a big part of me is relieved that it's over. Over the past few months her health went downhill. It happened pretty much overnight. She still had an appetite and got around well for a cat of her years, but she looked pathetic there at the end.

All I can do now is hope that my grandma is watching over her and that she's happy and healthy and having adventures again. I really hope she's fat and has a lot of energy, and that once we move to our new home she'll know where to find me. I worry about that the most.

I think a lot about that, with her and Tiger Lily both. I'm also a little disturbed that Tiger Lily was buried at our old house and that Wendy was buried here.

(We're staying at a friend's house on 43 acres while our new home is being built).

I wanted to have a sweet little marker for Tiger Lily, but couldn't because we were moving, and now it's the same for Wendy. I can't do anything special for her because where she's buried isn't even my house.

Well, there's no use worrying about any of that because I know it doesn't really matter. I just would have liked to have been able to do something special. Without it, I feel like I have no closure.

When Tiger Lily passed away last summer she was 20 years old, and Wendy

(the runt of Tiger Lily's litter)

was 18. My step-grandfather is a retired large animal vet/professor from A&M, and he says that 12 is the average life span for a cat so I guess we did something right. They each lived long lives.

Sleep Sweet, my Wendy Moira Angela Darling. I'll always miss you.

~♥~♥~♥~♥~

♥

~♥~♥~♥~♥~

In the next couple months I'll try to type a post about what it's like living in the country. I don't have internet access here, so I can only get online when visiting Downtown Brenham.

We did buy a Verizon Jetpack last month, but this is my first time using it since there's hardly any memory on it and it loads very slowly. Today is the last day we can use it, so I figured if I was going to use it at all… it might as well be about my Wendy Kitty.