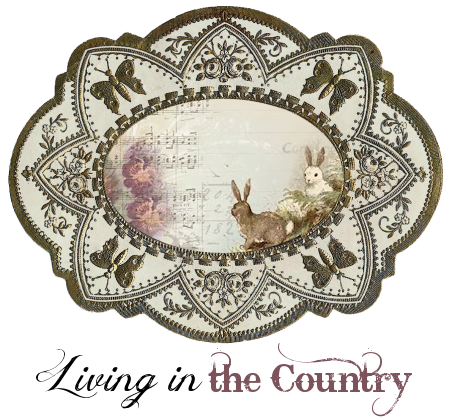 "Everybody stand back in case of bats." - Roy Hobbs





So here it's August, and finally I decided to type a post about what it's like to make the move from suburbia to countryside.

Just be prepared to read a lot of disjointed rambling.

(Not that I expect many people to actually read this. I'm really, really bad at blog pimping).

I really want to share some videos here, but I'm not sure I can do that since we don't really have internet here. If interested, just keep checking this entry every now and then for updates.

Here's one of the cattle on the next property over. I love cows!



And here's another of the barns, etc.



While our home is being built in La Grange, we're renting a friend's house in Burton.

(Which is in Washington County; the "Birthplace of Texas!")

She wasn't comfortable with the house being empty all the time, and I suspect she wanted someone to clean it and make it livable again.

(Which has been a lot of hard work).

We needed a place to stay that accepted pets, so it worked out for all involved.
The house has been empty a long time and in severe need of some TLC.
And fumigation… and critter control… and possibly even an exorcism.



While I'm grateful to be living here… and I do mean EXTREMELY grateful, as without being allowed to live here we wouldn't be building our house right now and would have sold our 2 acres… I have to confess that during my first night alone in this house I had a major crying jag. Major, and mind you I am not a big crier.

(Unless I can't get a cup of cappuccino when I need one, these eyes are usually dry).

I was actually homesick and so upset that little Abby sat next to me and started crying, too.

And that snapped me out of it pretty quick. I've never had a dog cry along with me before. She knew I was upset, and I didn't want to upset her too… especially since the girls were doing so well in a strange house.

Anyway… the place is filthy, even after months of family members taking trips up here to clean it. Even now, after at least a dozen elbow-grease floor scrubbings, the floors are still so gross that we have to wear shoes 24/7. Not even socks, but shoes.

(And the carpet in the living room… forget it. We had to toss room rugs on it, and after we move we're throwing them out. I'm pretty sure the carpet is drenched in mouse urine).

The house can be very depressing and unsanitary.

(I've had so many headaches since I got here and Mom has an infection of some kind in her toe. I think she got it in the barn. She finally went to a doctor about it, but it's still swollen and hurts her).

My bedroom feels like a sauna, and every morning I wake up with baby bees flying around in there. The walls, doors, floors, windows and mini-blinds look like they haven't been scrubbed in over ten years. The toilets are disgusting and for a while refused to flush

(hence my breaking point during my solo slumber party that night)

, the tub was too filthy for words

(the predecessor to my breaking point. If I took a photo to prove how gross the tub was, the camera probably would have blown up)

, one of the showers doesn't work at all, and you can't run the bath water without the shower coming on at the same time. Even the electrical sockets in this house are weird. You basically need a big rig truck with a strong chain to pull any cords out. Even the lights have been a problem in some places. The lights on the back porch and living room keep blowing out. Literally shattering the light bulbs. We finally just replaced the light in the living room completely. In addition to that, we had to change a few electrical outlets and replace all the smoke alarms.

I really miss having a dishwasher, and especially a garbage disposal. There is a dishwasher, but we can't use it. We also have an oven, but we can't use it as well. Both of them stink up the entire house. It was so bad that we unhooked both of them, hosed and disinfected them outside, and then drenched the floors in bleach.

(Also behind the refrigerator and kitchen cabinets)

. And well… even after all that it still smells like rat urine and feces, so we had to buy our own little cooker and BBQ pit to cook on outside. We only use the stove top, and the dishes we just have to clean ourselves, old-school style.

We don't have trash pick-up out here, so we arranged to have it out on our land once a week. It's an hour's drive round trip, but it gives us the chance to see the progress on our house since our builder doesn't give updates…. like they're supposed to. We've been pretty upset with them.




Needless to say, I'm relieved this is only temporary and that I have plenty to keep me busy in the meantime.

Like disinfecting, setting mouse traps, ushering baby lizards out of the house and killing spiders for a change.

And getting my first cowboy girl hat! Isn't it cute and Shabby Chic-ish?!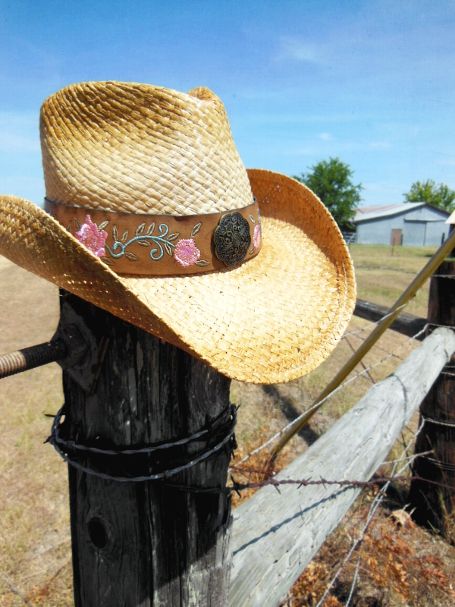 Currently, and I don't see this changing while we're here, the major battle is keeping the flies and critters out of the house. We're on 43 acres, and none of it had been cut before we got here. The wildlife has taken over. There are A LOT of lovely little bunnies around here, but alongside them are hosts of uninvited house guests.

Tarantulas the size of your hand… snakes

(found a copperhead in the barn recently)

… the usual insects… and rats and mice.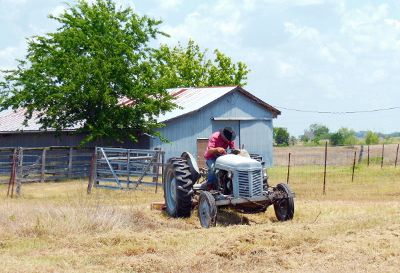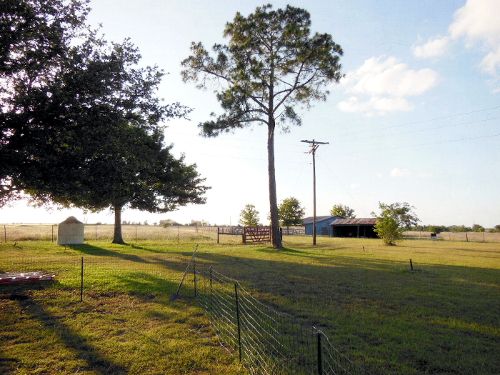 And I mean enough mice and rats to take over the world if they wanted. There are rat holes all over the property, and every day there's mice on the front porch. Some are so tiny, and others are huge.

There was one in the kitchen and my bathroom recently.

Complaining aside, there have been some great points about living here.

(Not in this house, but the area).

We've seen more family over the past couple months than we have in years, and I love having so much privacy and cattle as neighbors.

(They used to roam the property, and I wish they still did).

I LOVE being surrounded by hills, and I don't even mind living next to the highway.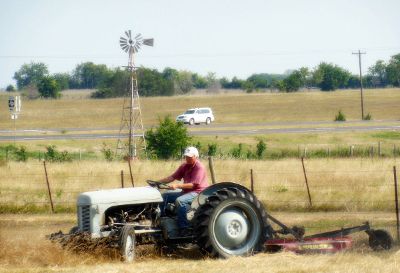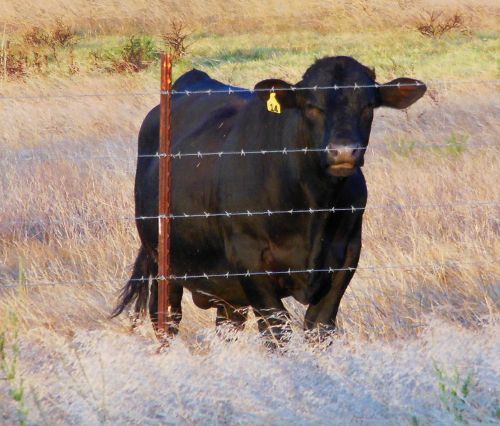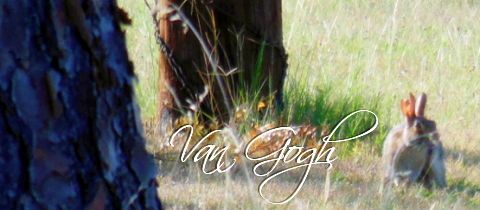 I really didn't expect to feel that way, as I'm not a fan of traffic noise. There's just something inviting about seeing these big trucks traveling down the road at 3 am in the morning, and then seeing so many campers and travel trailers during the day.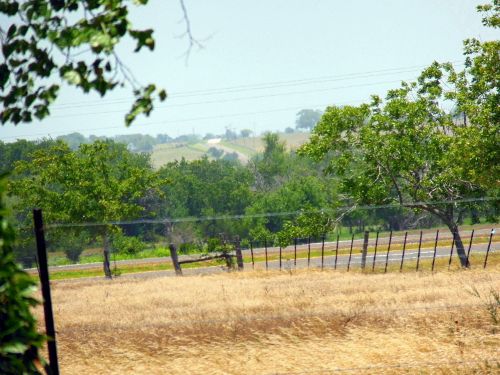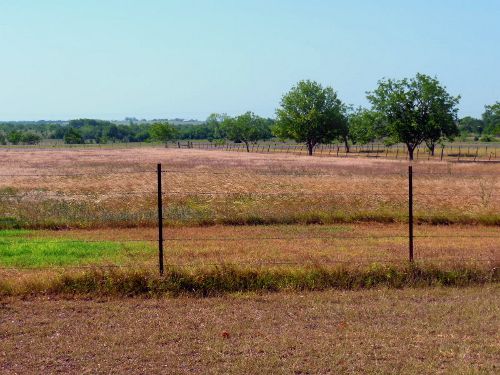 I really like the area over here. While I love the lot that our house is being built on, it's the Burton/Brenham area that I prefer. La Grange, so far as I can tell, doesn't really have anything. The one fantastic thing about it though is that come Antiques-Time/Round Top, we're only minutes away from Warrenton.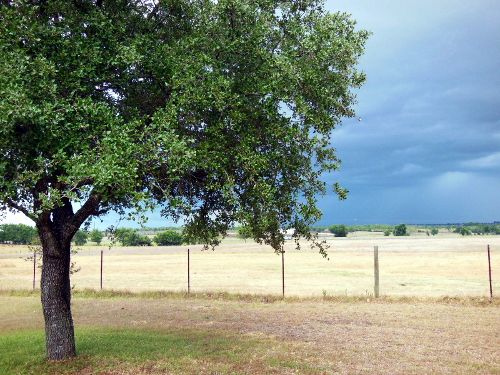 The post office here is really quaint and surrounded by antique buildings. There's also a nice 'Village Market' rest stop just down the road, and every morning they bake fresh cinnamon rolls. Every single day I see rabbits outside

(one is always right outside my bedroom window every morning and night)

, there are scissortails flying around everywhere, and the sunsets….. GORGEOUS!!!! Never in my life have I seen such beautiful sunsets. Living in a neighborhood cramped with houses that block out so much of the sky, I never realized what I was missing out on. I've become obsessed with filming those sunsets.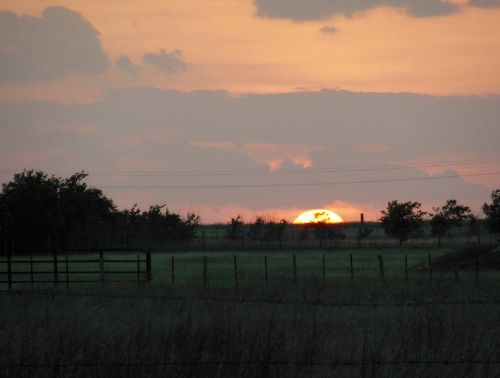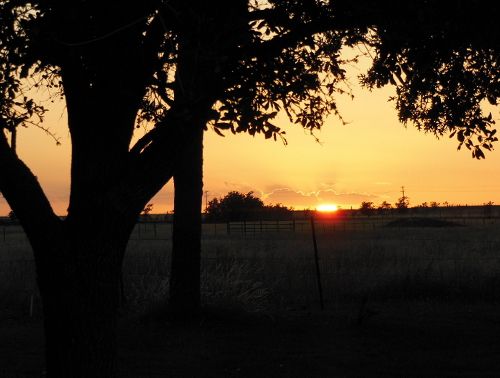 I wish I were that obsessed over looking at the stars, but it isn't safe outside at night. The critters pretty much keep us under house arrest after the sun goes down.

The critters around here that I don't mind are all the bunnies, cattle, scissortail birds, toads

(one which is huge and often sitting on the back doorstep at night, as if waiting for an invitation to come in)

, a lot of geckos and even turtles.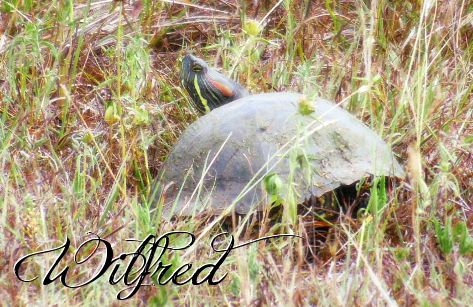 Our first tortoise we saw in the fields by the barn, and the second I saw taking a leisurely stroll across the front yard. When my brother and his new wife spent the night here a few weeks ago, they heard coyotes. My SIL heard them howling while taking her dogs outside around 3 in the morning. Fortunately, they sounded pretty far away.

The first week we were here, there was a woodpecker in the yard but I never did get to see him with my own eyes. I heard him up in the pine tree plenty though. I named him "Sir Wickel."

In my next post, I'll share more photos and video. Since I don't have internet here, I'll have to upload everything in town or be really frugal about it here at home by using the Verizon JetPack… which I would NOT recommend to anyone.

Oh! And get this… where we live right now, we're just two minutes from Round Top.

(In case you don't know, Round Top has one of the largest antique shows in the country).

I even saw Rachel Ashwell's Bed and Breakfast a few weeks ago. We only drove around the area.

Word of Warning: It's in the middle of nowhere on a road that isn't paved and goes on for miles.

I think I'll stop rambling to myself now.