Happy Birthday, Mom!


And what b-e-a-u-t-i-f-u-l weather we're having today, too. It's actually cold outside.

COLD, in OCTOBER. As in sweater weather cold and no sticky humidity for a change. This isn't normal weather for us, and I'm lovin' it!

I'm sure it won't last all day, but while it's here I'm gonna enjoy it. Earlier, the furkids and I stood on the back porch. The wind was cold and you could hear crows crowing in the distance.

There's something very special about chilly weather when you live in the country. Sure, there's a highway nearby but on the other side of that is a view of 43 acres.

A couple days ago we saw a really big crane in the back field. It's dove hunting season, and lately I've noticed some of the birds seeking refuge there. A few weeks ago it was a big Cara Cara/Mexican Eagle.

(I think that's right)

. I have video of them, but can't upload them until we get normal internet at our new house.

And speaking of the house… it's still going at a snails pace. They said it would take no more than 6 months, but we're now at the 7 month mark. They're still having to redo every little thing, too. Simple things that even I could do with my eyes closed. It's almost laughable that this is these people's profession. They have no idea what they're doing and have no integrity.

Anyway--- for Mom's birthday I made her a Steampunk-ish necklace, and of course a handmade card. I didn't have many birthday stickers, so this is how the card and everything turned out.



Larger Pic HERE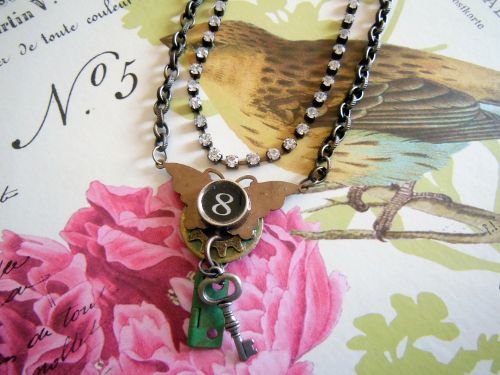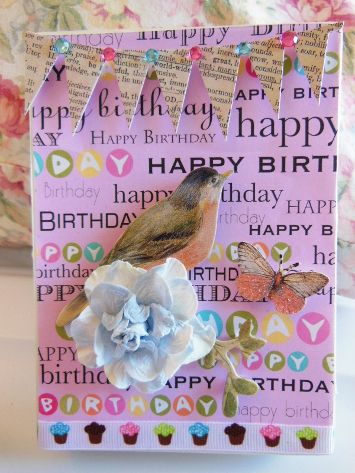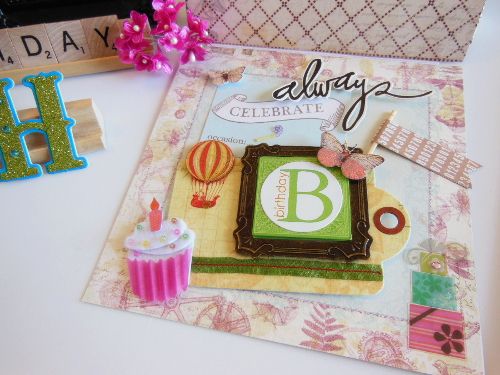 Larger Pic HERE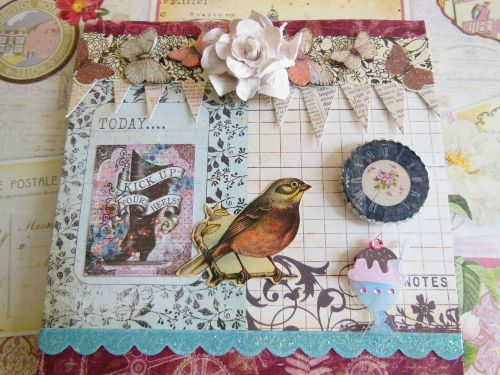 And before I forget.... I've missed so many wonderful photo opportunities lately, of the wildlife in these parts:

- Traveling down the country road the other day, there was this really tall hawk just sitting on the fence.

- A hoard of vultures hanging out in a dead tree, with the hills in the background.

(I see this all the time and it's so very fitting with Halloween coming up)

.

- Yesterday, before turning on our street to see the "progress" of the house, there were vultures everywhere! Some were on the ground, others in a tree, and the rest were standing together on a rusty tin roof of an abandoned house. I really hope that's a normal hangout for them and that I can get it on film after all. I'm still kicking myself for not taking the camera with me yesterday.

- At the grocery store the other day there were pumpkins outside. Standing on them were dozens of black birds! It really would have made an awesome photo, and again… so fitting for Halloween.





I'm really going to miss celebrating Halloween this year. For the first time in my life there will be no decorating the house and having trick-or-treaters over.

Our house was always THE place to stop during Halloween

(and Christmas)

. Every year families would drop by to take pictures in our yard. They always told us that they would specifically come to our house because it was the best decorated. We'd have music playing

(GOOD music and not the standard haunted house sounds)

, a fog machine, a bubble machine, etc. There was Halloween Bling everywhere.

FUN Halloween decorations, and nothing gruesome.

This is the only Halloween decoration we have displayed this year.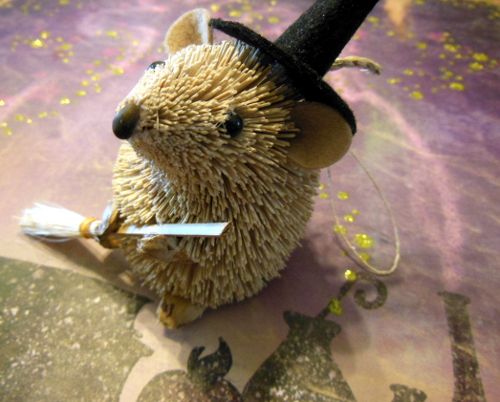 And you know what else I miss? I miss changing my blog header and backgrounds to Halloween themes. It'll take up too much memory to search for the right backgrounds to match the headers I've made, so I'm stuck with the same old look.

Not that it really matters. No one really knows of this blog anyway. I just think it's fun to change the look of my blog every now and then.

Which really means all the time. I'm pretty obsessed with changing the look. It's just a lot of fun to me.