After being deprived of watching "Once Upon a Time" episodes, "Downton Abbey" has returned!


Sans Matthew Crawley of course, thanks to the actor not being a fan of remaining on a show that's so well-received it's likely running neck-to-neck with the ever popular "Duck Dynasty" series.

(He, too, could have had his face plastered on a band aid or Chia Pet... but only if he'd stayed at the Abbey).



Unfortunate for Matthew Crawley fans, I don't think the Dowager Countess had the same chat with him as she did her granddaughter. He chose death over life.



So... let's get to it, shall we?

I'll not mention everything about this 2 hour episode, but I'll try to stick to the main story-lines without too much rambling.

(The key word here being "try").

I'm going to type this in a rush, so please disregard any bad grammar, etc. I'm not big on resolutions this year, but if I did have one it's to start accepting imperfection and not being so OCD over any entries that I make. After all... it is only me, myself and I looking at this.





Scene 1: Oscar the Grouch Miss O'Brien has left the Abbey, aka Do-your-own-hair- Miss-La-dee-dah.

Miss O'Brien and her birds nest hairdo has left the Abbey; for India of all places, courtesy of being 'stolen' from her ladyship's friend. Miss O'Brien snuck out like a thief in the night, so her abrupt absence has caused tremendous stress for her ladyship.

"So what happens now?" Cora cries, unable to muster the strength to get out of bed.

Is she expected to dress herself? Do her own hair? Run the risk of chipping a fingernail from plugging in the curling iron? Is she doomed to walk down Downton's 2 mile-long staircase in her bare feet, seeing how she has no idea where her sock drawer is?

To semi-quote The Fresh Prince of Bel-Air, her life was flip turned upside down, and that darn middle class just doesn't understand!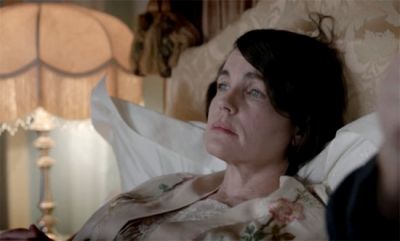 But don't start salting your oatmeal with your tears now. Her posh family at the breakfast table downstairs understand. They had something like a 2 minute conversation about it, which probably would have been 3 minutes if not for that darn Tom Branson changing the subject to more important matters concerning Mary and the estate.

Mary, whom is very fond of her mourning clothes but not very fond of taking care of her own kid.

(Well, unless awkwardly holding him in an insanely unnatural stiff-as-a-rod posture counts).



~*~*~*~*~*~*~*~*~*~*~

Which leads me to Nanny West…




She's a bit of a snob to Thomas, whom takes it upon himself to get her sacked. Once again, and to perfection, he plays the role of hero to the Crawley family.


Let's see... last season he was soooo obsessed with worry over finding Lord Grantham's dog

(which he himself dognapped and then lost)

. He fooled the lot of them over that, received a promotion… etc etc etc… you know, the same old story of Thomas's life at the Abbey.

The lesson to be learned here?
If you're a dastardly SOB, you'll come out on top.

(And if you're a good person, you're gonna die. I'm thinking this show needs to be renamed "Survivor").



Meanwhile, Robert seems perfectly happy to allow his daughter to look like a black hole for the rest of her life. As he tells Branson, "With great love comes great misery."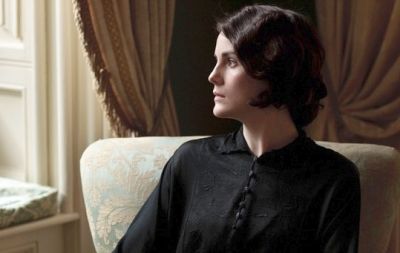 (Is it just me, or does this pic looks like a re-enactment of "Somewhere in Time?")



Nice choice of words there, father-in-law.

You really stuck your foot in it that time.

I wasn't a huge fan of Tom at first, but these days I like him a lot. Lord Grantham really needs to learn to think before he speaks.

Or invests any money connected to the estate.

~*~*~*~*~*~*~*~*~*~*~

Carson rescues his diva: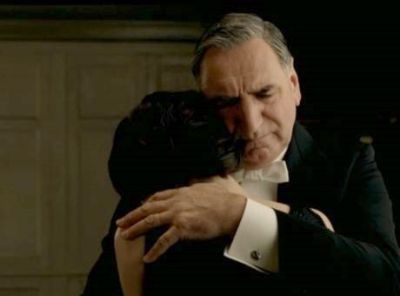 Carson and Mary had a nice little scene together.

(Well, at least they did after Mary practically ripped him a new one earlier).

Thanks to Branson's worry over Mary's current state of mind, Mr. Carson has boosted Mary's self-confidence.

Which really is a good thing because she was starting to make a certain tail-less donkey in the Hundred Acre Wood look like Pollyanna Whittier.

~*~*~*~*~*~*~*~*~*~*~

Molesley and the Terrible, Horrible, No Good, Very Bad Day Six Months: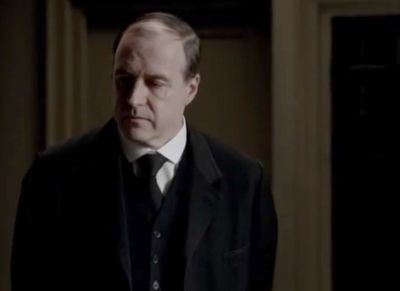 Ah, Molesley. I love him and his bumbling ways. Unfortunately, this time around his problems are more serious than crushing on Anna or accidentally getting drunk at a dinner party. Since Matthew's death, he's lost his job.

I felt so sorry for him standing there, all down in the mouth in Carson's office. And then it got worse when Mrs. Patmore's voice reached his ears.

"Chin up, Mr. Molesley. It may never happen."

When Moseley replies that it already has, Mrs. Patmore just walks away.

For the love of God, woman, couldn't you at least have baked the man a chocolate pie?! He's depressed right now and chocolate can raise those endorphin levels.

Poor Molesley just can't catch a break. While Isobel - whom prefers "eating off a tray" these days - helps a stranger get back on his feet, she won't give Molesley his old job back.

To quote the 10th Doctor, "What?! What?! What?!"

But thanks to the combined efforts of Anna, Bates and the Dowager Countess, Molesley is tricked into accepting a helping hand.

~*~*~*~*~*~*~*~*~*~*~

Valentine's Day: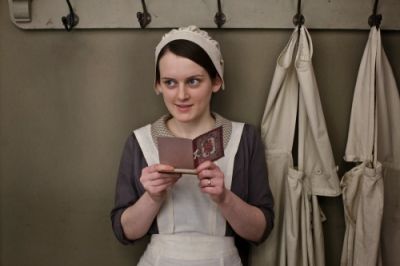 Daisy has a secret admirer?



Nope, not really.

~*~*~*~*~*~*~*~*~*~*~

Edith and Michael Greyson contemplate living in sin:




Yes, this we already knew. Edith and her newspaper man have problems, but they don't seem too upset over it. Michael discovers he can divorce his wife and marry Edith if he becomes a German citizen.

This totally turns Edith on, whom boldly kisses him in a crowded restaurant.

Okay, yeah. Not very exciting but this is 1922 and I suspect it was a slow news day.



~*~*~*~*~*~*~*~*~*~*~

Dowager Countess, to Mary: "Because I love you."




And I love YOU, Grandmama!

This was the best scene in the entire episode. I love how she's always looking out for everyone, and they don't even realize it.

And good on her for telling her son how horrible and selfish he's being by not wishing to share the crown with his own daughter.

(I'm afraid Lord Grantham thinks women's brains are comprised of a sackful of ferrets).



~*~*~*~*~*~*~*~*~*~*~

Thomas stirs up more trouble:

After getting Nanny West fired

(which we learn she actually did deserve after all)

, Thomas now has it out for Anna. He is now slandering her name.

And Cora and Robert believe him!


Are all gazillionnaires really that clueless and disloyal? Anna is never "unkind" to anyone. I think they both need to look up the word's meaning in the dictionary. Surely they have a dictionary somewhere in that massive library.

~*~*~*~*~*~*~*~*~*~*~

Mrs. Patmore versus the mixer: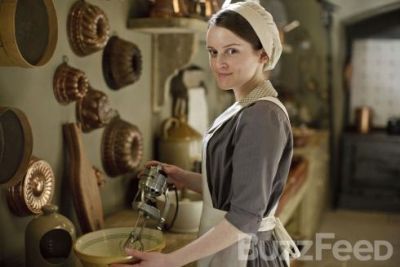 While Daisy embraces a new world of toasters and kitchen mixers, Mrs. Patmore is petrified. She's afraid of losing her job to any old woman in the village that can work a can opener.

Man, things were dramatic in the 1920's!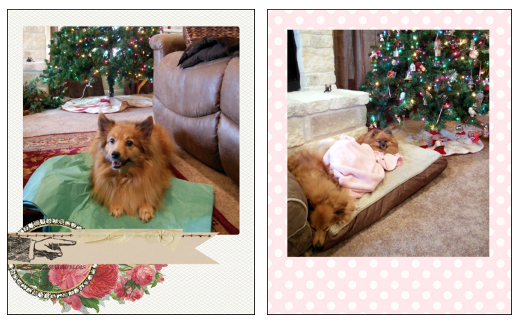 I finally took the Christmas tree down today.

As you can see, Maddie and Izzy kept me company but little Abby decided to nap the entire time.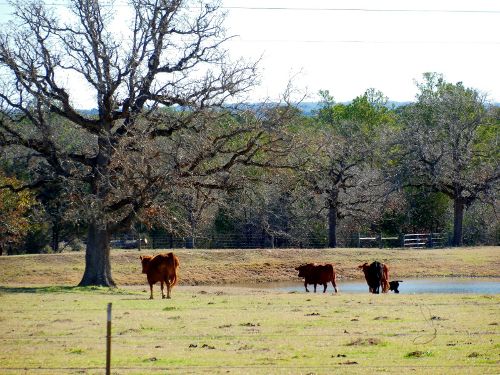 (Larger Pic)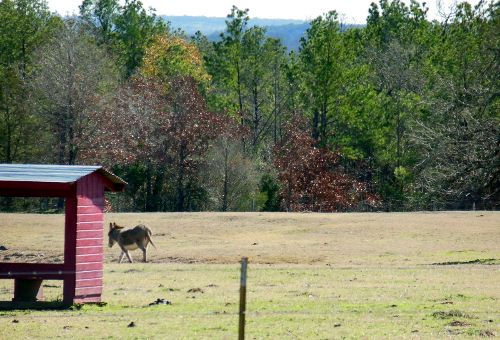 And okay... guilty. I took more photos and video of the neighbors. What can I say? I love them!