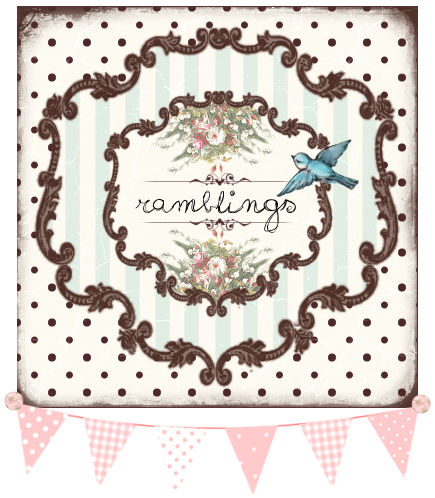 It's been a little busy around here lately. We've been looking at a lot of little sheds to use as a crafting room.

(If all goes well, it'll be delivered and placed next to the barn)

. My mother and I desperately want this to happen, so I'm keeping my fingers crossed.

The guy that we're going to have put the electric in is awesome. My mother really liked him. I didn't get to see him, but he has one glass eye. He told my mother that his glass eye is on the right, and his wife's is on the left, which means that together they're the perfect driver.

He was really funny, and more importantly.... he fixed that stupid electric box cover that Tilson put in. Even my mother and I together couldn't open that thing, and the guy said there was no way it was going to open for anyone the way it was installed.

He also immediately knew who it is was that put the electric in at our house. We've been having problems with it ever since we moved in, so I'm really glad this guy came.

But enough of that....

While there's been a few rainy and extremely windy days here lately, there have also been some beautiful ones... which means a lot of time outside with the girls, planting trees and flowers in the garden beds.

Mainly Abby joins us of course. She loves the outdoors, and through a minor catastrophe of sorts she stumbled across a new favorite game.

Another favorite, yet unusual game. (Abby always has had interest in unusual toys and games. Like I said before, it must be a genius thing
). But anyway... the other day, while puttering outside in the back, it didn't take long to discover that Abby's feet and legs had turned

GREEN

. The grass had just been cut, sans the grass catcher, and the loose clumps of grass dyed her feet like an Easter Egg. She had to have a bath, but I think she forgave me because the whole incident gave rise to her new favorite game.

The game is just using the grabber - it's our snake grabber - to pick up loose chunks of grass from the mower. She is OBSESSED with it!

While Abby is in perpetual energetic mode anywhere and everywhere in her new fenced-in yard, Maddie likes to watch the cows.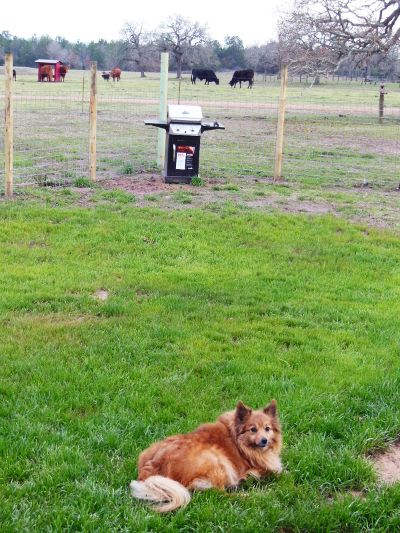 And speaking of cows, now there's another new calf! That makes 3 new babies over there now. It's really cute because the 3 babies are always hanging out together and running and doing these little kicks/jigs. Hardly ever do I see them around their Mama's.

So while Maddie watched the cows and Abby explores the yard, Izzy usually sits on the porch with me or sits inside. She's not much for the great outdoors, at least not for long periods of time. She's our little diva.

Posted below are some pics and vids I've taken lately. Hopefully, I'll be able to post some nice pics soon for a change... of the BLUEBONNETS! Also of the Round Top Antiques Fair.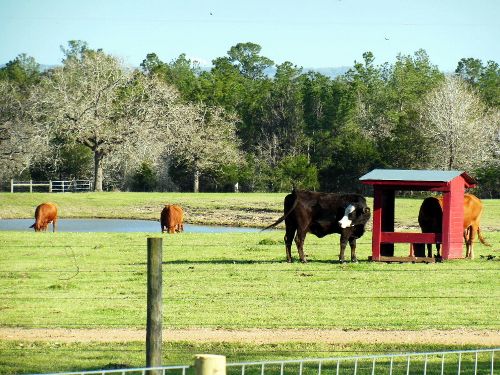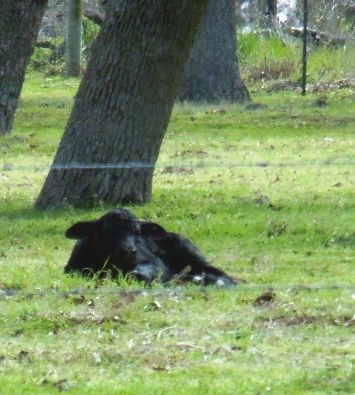 Isn't the new baby cute?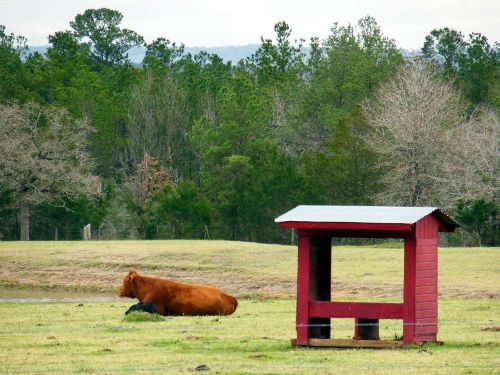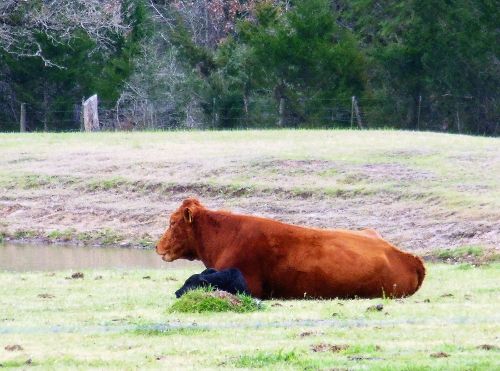 Ahh... Mama and Baby sitting by the pond.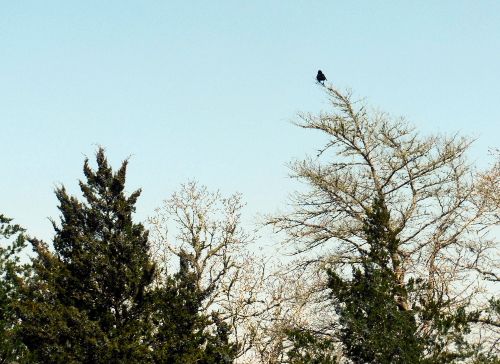 I think these birds are so cool! They're cow birds - brown heads and black bodies - and their song is just so strange. They sound like running water! The first time I discovered them, there were hundreds of them in our Oak tree. I filmed them, but their sound on the camera didn't show up as well as I would have liked. Words can't describe how amazing they sound.

Although, my mother isn't very fond of them because they've been chasing off some of the prettier birds from the bird feeders. They just sort of took over. Mom isn't as much a fan of their song anymore either, because they remind her of the aliens in the move "Signs."


Which really is spot on, because they sound like that scene in the movie where you hear the aliens talking over the baby monitor. When you think of it like that, they are a little on the creepy side.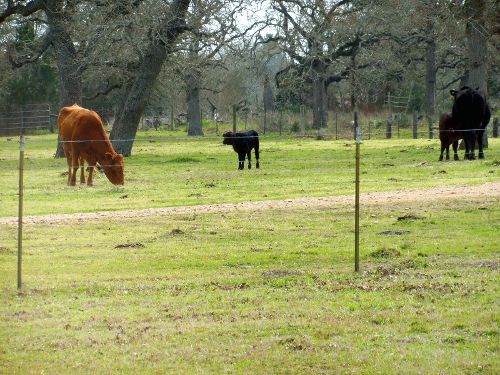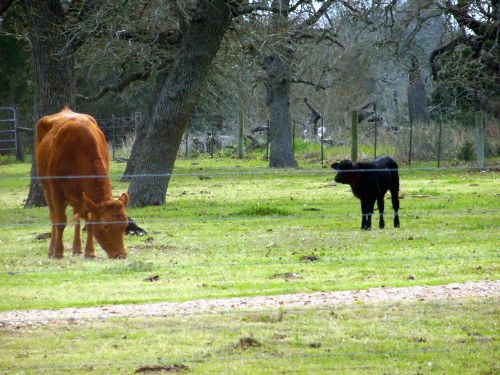 One of the older babies was VERY curious about the new calf.



(Larger Pic)

So curious that it finally decided to sit with it on the grass.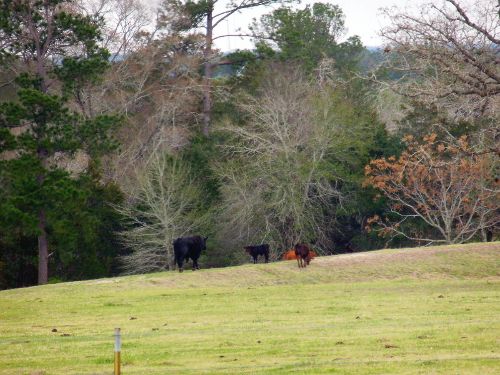 (Larger Pic)






I am so excited about the Round Top antiques fair!

What it is is a H-U-G-E fair

(selling antiques, handmade items, food, etc)

that's extremely popular not just statewide but countrywide. It's held twice a year, and people come from all over. Even celebrities have been known to pop by: Matthew McConaughey, The 'Duck Dynasty' Wives, Miranda Lambert, etc. Round Top is also home to the "Junk Gypsy's."

(They had their own show on HGTV)

. Rachel Ashwell bought the Bed and Breakfast that she used to stay at during every Round Top event, and she also has a store there. Even Tommy Hilfiger's people have shopped at Round Top.

Stretching along the cow pastures from Round Top

(population 91)

to Warrenton, there are something like 350 vendors along 43 acres. There are ENDLESS white tents literally dotting both sides of the highway. In addition to the smaller tents are The Big Red Barn, The Big Red Barn Tent, The Continental Tent, and Carmine Dance Hall.

And I'm sure I'm leaving stuff out.



Hopefully the weather will be more cooperative than it was for the show back in October. The weather was wicked hot back then and during one of those days there was one monster of a storm that blew through.

The official start to the show is April 2nd, but most of the tents open a week before. Words can't describe how blessed I feel to live right in the heart of this gem of an event. Last year, while renting a friend's house in Burton, we were only 5 minutes away from Round Top and now that we're in our new house we're just as close to the Warrenton side of the antiques fair.