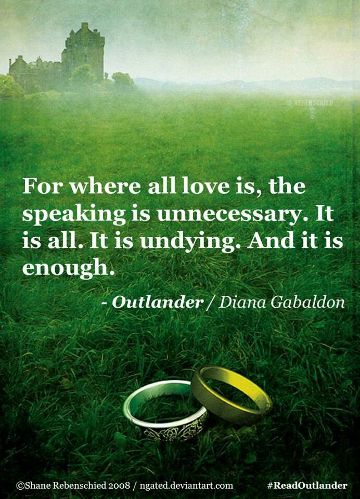 So it's time for some serious book pimping!


(Sans Spoilers of course. I hate spoilers)



Diana Gabaldon's Outlander series is a loooong one with a lot of side stories, but CONTINUE READING for Jamie and Claire's story alone. It is quite a beautiful one. My personal favorites are the 1st four books. If you do not devour this series, I will hunt you down!



Jamie is an absolutely beautiful character that will ruin 21st century men for you forever. Not only does the man have a sense of humor, but he sure knows how to talk to a woman! The words that come out of his mouth will make you laugh... make you cry. And the man is so protective of his loved ones. I can't even begin to stress just how amazing his character is.

Which is not to say the man is without flaws, because he does possess them. There's one chapter in particular, in Outlander, which will have you steaming mad at him... perhaps even for forever. But that's what's so fantastic about these books! They are true to the time period and these characters actually GROW as human beings. They learn from their mistakes and the reader is shown without question how a certain decision which Claire makes in Jamie's time really is a matter of life and death not only for her but others... hence Jamie's reaction.

And honestly, Jamie Fraser feels very real to a lot of people; nothing like a fictional character at all. I don't think there's a person alive who has read this series, and whom doesn't feel the same. He and Claire simply MUST be real, and they're whispering their story in Diana Gabaldon's ear.





A MUST READ!


Repeat: A

MUST

READ!

Only be forewarned that in the first book something very violent happens to Jamie, but it really does make you admire his courage

(and Claire's determination to help him)

all the more. The hell Jamie goes through is testament to his strength of character. Every woman in this world should have their own Jamie Fraser.

And Claire is a tough one as well. There's nothing the shrinking violet about her.



And just a little FYI:



Diana does tend to go off tangent with details and some of the minor characters...

(these books really could be a lot shorter. Her editor must eat bon-bon's all day)

... but I do believe the woman is a genius. She is incredibly knowledgeable on so many topics, and her writing is top notch. This lady is REALLY, REALLY talented. She's a great painter of words. The Michelangelo of storytelling.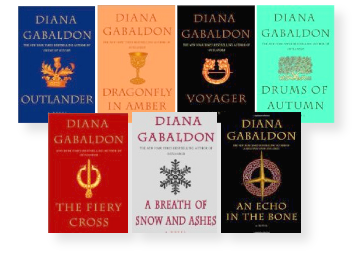 More titles to come.....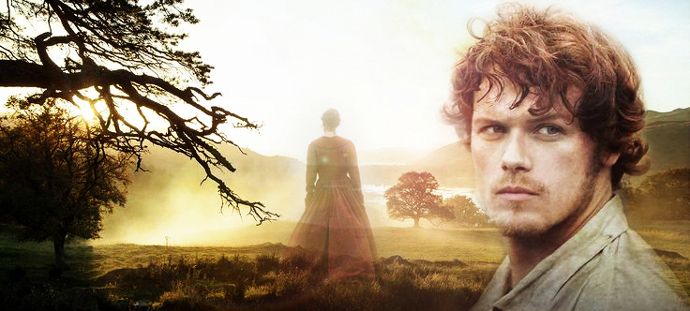 I decided to make a few Outlander siggies. As always, they aren't even near perfect but it was fun making them. I'm still learning and am hunting down tutorials online.

Click HERE for the finished pic, larger and with text.

To view the other one with a different quote, click HERE.

*~*~*~*~*~*~*~

♥

~*~*~*~*~*~*~*

And one more that I made...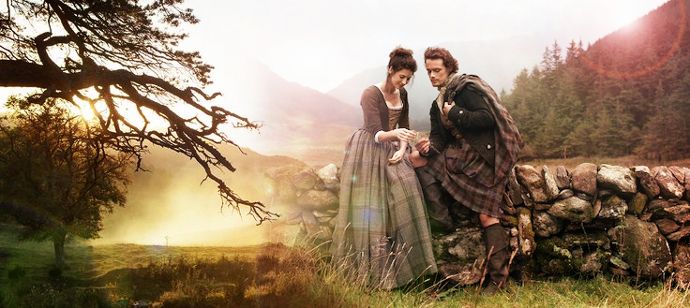 The finished siggy, with quote, can be seen HERE. I also made a lighter colored version, HERE.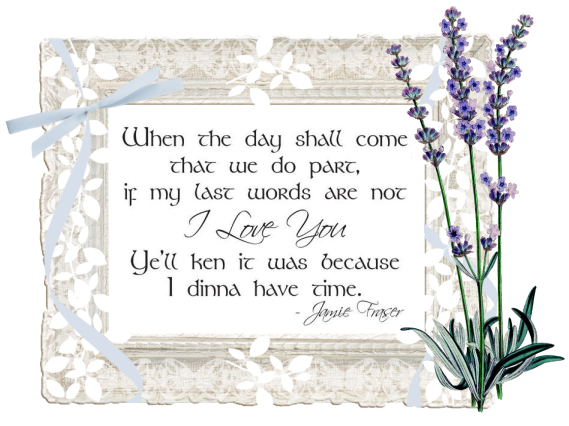 A few weeks ago I saw the trailer to the upcoming Outlander tv series. It's supposed to air on Starz this summer.

Unfortunately, I don't have that channel in my lineup so I hope the Season 1 dvd will be released pretty quickly after the episodes air on tv.

Click HERE for the high quality version of the trailer.
You willna regret taking a gander at that trailer. Trust me.


Okay, so one more video:
I can't resist that Scots accent.



Did I ever mention how in love I am with Jamie Fraser?!



The words that come out of that mouth.....

"To see the years touch ye gives me joy, Sassenach,"
he whispered, - "for it means that ye live." ~ Chapter 85: Hearthfire, page 737

Do you understand now? Only a fictional man could talk like that, but at the same time he feels so REAL! I think Diana Gabaldon loves to torture her readers.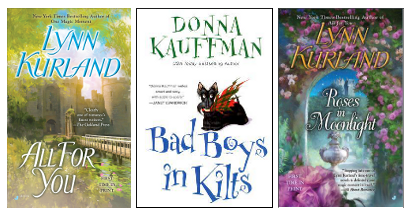 Speaking of books, a few weeks ago I finally got to use my Barnes and Noble gift card that I got for my birthday.

Which was back in May of LAST YEAR. Pathetic, I know. I love books but it took practically an entire year to be able to stop by the bookstore.

In my defense, the house was on the market at the time and there really wasn't any time for dilly-dally. Then, after the house sold, we moved out to the boonies where the nearest Barnes and Noble is in College Station.

(And the traffic there is horrendous. Typical college town traffic)

.

There weren't many books from my wish list at the store, so I just hurriedly chose a few from authors I've read before. Unfortunately, the cover for the "Bad Boys in Kilts" novel isn't the adorable one of the Scotty that you see pictured above.

Honestly, the cover on my copy of that book is embarrassing. It's a smutty book cover.

(I've been known to purchase a book simply because I love the artwork on the cover, so... color me disappointed).