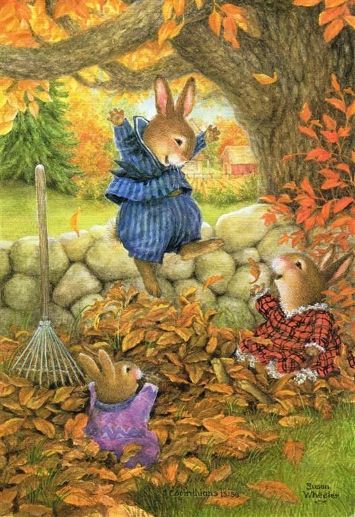 Fall is in the air.

Well, it almost was for one day. We're not quite yet into wearing cozy sweaters and having kitty cats warm your lap while watching classic black-and-white movies.

That doesn't come for us until... Mid-January?

On Tuesday it was 95 degrees, with a heat index of 99, but a few days earlier the high was 76.

(I imagine that's summer weather for a lot of folks, but I'm happy to get anything below 90 degrees)

. I think the crows were really enjoying the warm weather... opposed to hellish heat and humidity... because they were noisier than usual. They were so raucous that every time they'd stop outside the window... to chat with each other about whatever it is crows chat about.... the dogs would try to drown them out.

Unfortunately, the camaraderie of 3 bossy dogs frightened my crows away pretty quickly. I could still hear them in the neighbor's woods, but they were too far away for my liking.

One of our neighbor's absolutely detests crows. When we first moved here, we noticed he had dead crows hanging from his tree! It was his way of trying to scare them off. Has he never heard of a scarecrow? It'd be a lot less morbid, don't ya think? Less morbid and... normal.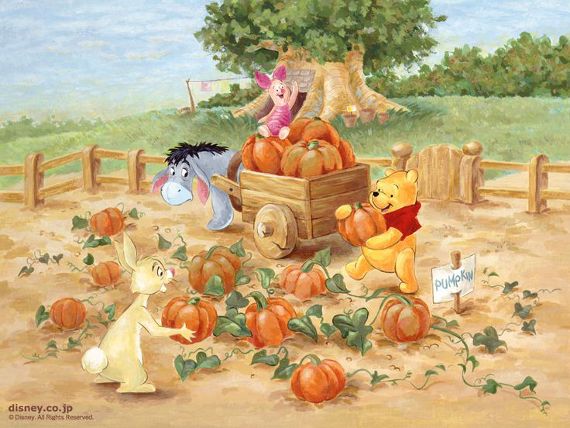 Fall might not ever reach our neck of the woods, but what does arrive this time of year without fail is the Antiques Show in Round Top and Warrenton.

(I've mentioned it before, so I won't ramble about it. I'll just say that it's a huge deal and people fly in from other states to attend. It's also home to the Junk Gypsies, who have their own tv show. I think Miranda Lambert paired up with Junk Gypsies this year, although honestly... all I saw was a bunch of T-shirts)

. Luckily, we live only 10 minutes away and people that don't live here don't know that quite a lot of the tents open two weeks before the official opening.

Which works out great for us because the crowds aren't as big a deal, especially if it isn't a weekend.

I never take photos of the booths, and generally that isn't allowed, so I only took a few pics: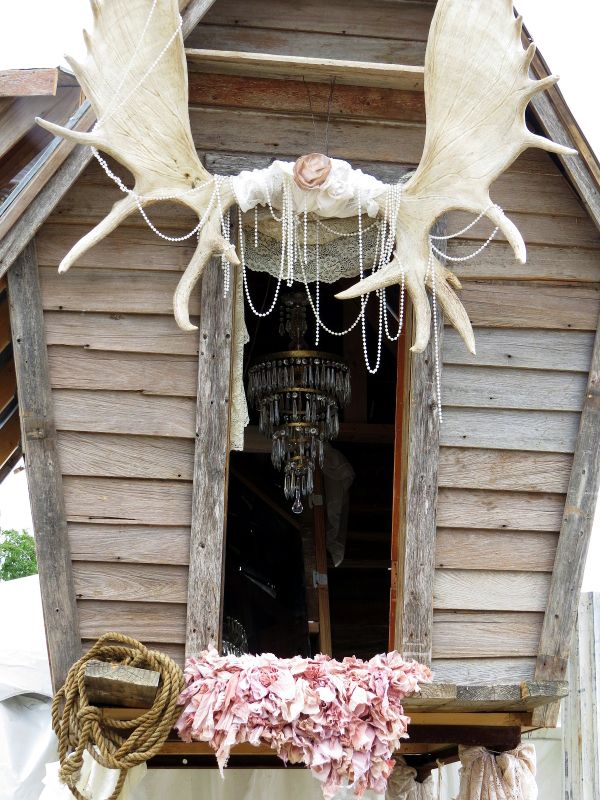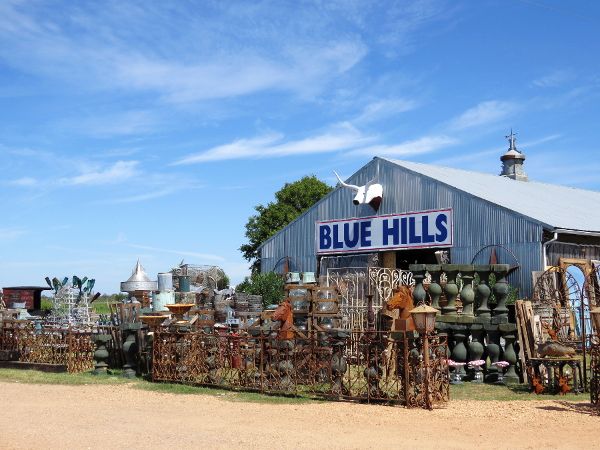 (Anyone need a disco ball?)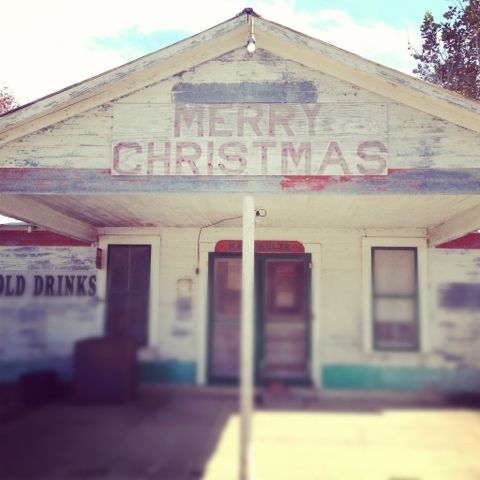 (The above picture I didn't take. I found it HERE. I just have to include it because The Merry Christmas Building is an icon in Round Top. If you wish to hear the story behind it's name, you can read that HERE).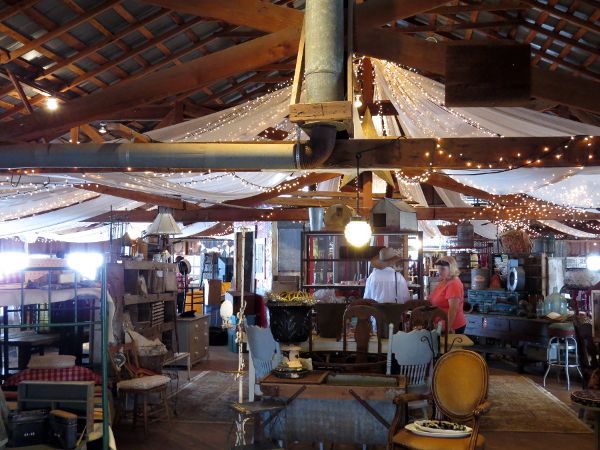 (This is one of my favorite tents)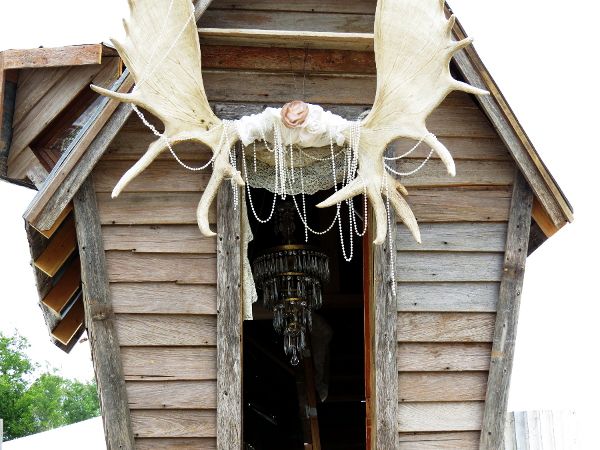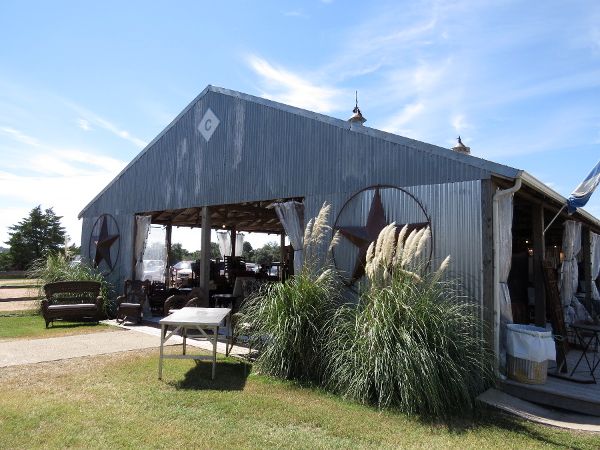 Since my pics were nothing special - basically just tents set up - I finally stopped taking my camera with me. It was too exhausting carrying it around.

Because of how hot and humid the weather has been, we skipped several days of the show. It just didn't seem worth it, although I do regret not seeing the tents at Marburger Farm. I'm not a fan of a few of the most talked about venues - The Big Red Barn in particular - but I've always liked Marburger, even if a lot of their stuff is overpriced. It's still fun to look, weather permitting.

I really can't understand why they don't have these shows in the cooler parts of the year. There should at least be one in February. Otherwise, the heat takes the fun out of it.

And seating! WHY, oh WHY do they not have shady seating areas and real restrooms? They're finally getting smart with the trolleys, but the complete lack of seating areas - and I say lack as in nonexistent - really needs to be improved.

They also need a tower out there. I felt sorry for a lot of the vendors - and customers - because I was constantly seeing that there was a lot of trouble getting a signal out there. It happened to us only once, but then again we never buy much. For those more serious shoppers however... using cash would pretty much be a necessity.

Here are a few vids I took of the drive up to Round Top:
(This was before the official opening, so not everything was set up in all the fields yet. Also, the big crowds hadn't yet arrived. I wish we'd gotten to visit on Saturday - beautiful weather - but my brother needed help picking up his new dining table. It was probably for the best though, because I hear Saturday was a record attendance day).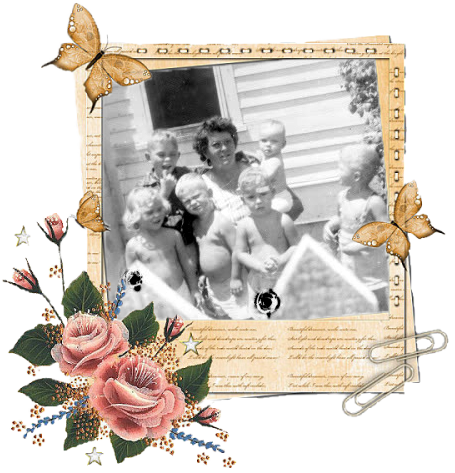 - Last Sunday would have been my great-grandmother's birthday. In the pic above, the baby she's holding is my mother.

- This is the only reminder we have of it even being the fall season.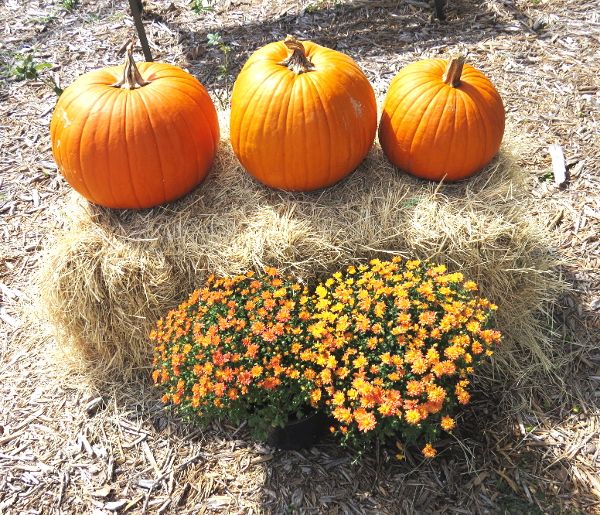 - Last weekend our crafting shed finally arrived. It's a really small building, and they did the windows all wrong...

(This, after having the plans wrong to begin with. Thank goodness we double-checked that they got everything else right. We didn't trust this guy for good reason)

... but it's still really cute.





It needs a little sprucing up, but not much. We're going to add shutters to the windows they screwed up, and then plant some jasmine and build another trellis. (

Note to grasshoppers

: STAY AWAY!)

We've already started staining the wood darker. When driving up to the house we absolutely hate the color. It's very yellow-ish. It looks like King Midas touched it, turning it into gold.

And we've already painted/textured the floor. We originally wanted to buy flooring, but it would have been ridiculously expensive for such a small space.

As I type, the electrician is here to give us a quote so that's good. It's wicked hot right now - 90 degrees and climbing - so I welcome the break.

(My mother and I both overdid it this morning while staining the building)

.

- Izzy is still using her trusted 'Human GPS/Alarm System' around the house.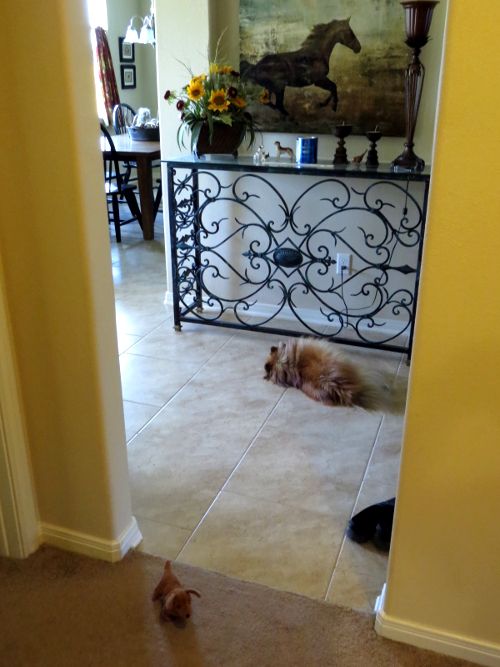 She loves to set her babies in doorways. The babies have squeakers in them, so I think she knows that if we step on one she'll hear it and will know if we're trying to escape from her clutches.

She is one BOSSY little control freak. She acts like she's some kind of sheep herder, only at our house it's stupid humans.

And look at this:





It's either Maddie or Izzy that does this. For as long as we can remember we're always finding their toys in patterns. This one is only a straight line, but they often are in patterns according to color... only rabbits together... the toys will be in 3's.... etc. I'll have to share photos of them sometime.

I swear I'm not making this stuff up. I think one of my dogs is a closet genius.

- These are the only other photos I managed to take of our baby rabbits.

I wish they stuck around longer.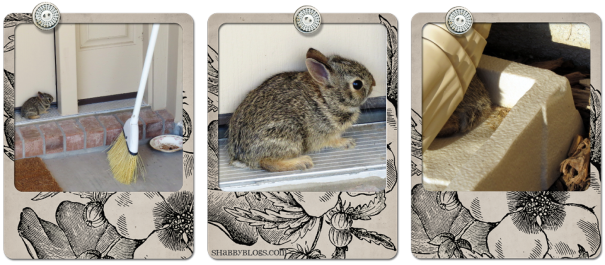 I used to see Diana Cottontail pretty much every day. Even at 2 am I often saw her either in the backyard or by the gazebo. Lately however... I haven't seen her. I wonder if she's had more babies? I don't even know if those last one's were hers or not.

And one more thing about the baby bunnies. Can you believe one of them took to hiding inside the pipe to the gutter? We were watering the garden, not knowing it was there, so it must have been pretty frightened. I felt so bad for it.

- We have LOTS of different kinds of birds around here, but lately I see this one bird in the backyard every day.




It's favorite spots are perching on the water hose station beneath the window, on the ground next to the chair, and then the chair itself.

If it's on the chair when I take the dogs out, I have to tell the little thing that it's time to fly away from the chair and towards the fence. A few seconds later it finally flies to the fence and just watches the dogs go about their business.

It doesn't seem to be afraid of anything. Even while Abby and I play out there in the evenings, it'll just stay perched on the bottom of the fence and watch.

- Can you tell it's dove hunting season around here? The sounds of gunfire have been a constant.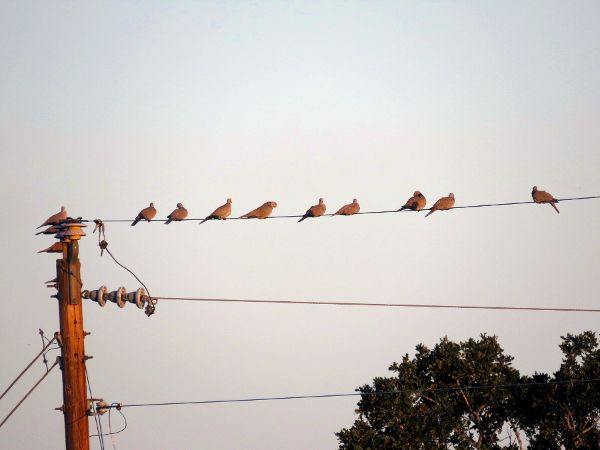 Actually, this is nothing. I really need to take another photo.

- Aren't these birds cute taking their evening baths?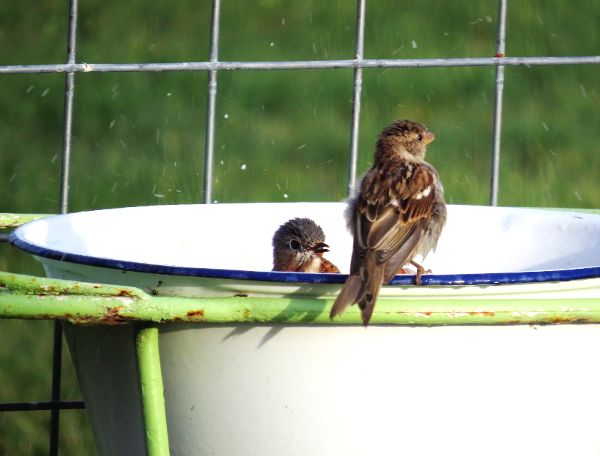 I sincerely hope the picture quality of these videos upload well for a change....






(This dog shows up at the house a lot. Luckily, I think her owners found her later and took her home. Because she appears to be a wanderer, I nicknamed her "Gypsy Girl." She is really SWEET, too. She follows us everywhere)

.






(Abby has been so obsessive over playing outside every night now. Around 5 pm she starts whining to fetch rocks in the backyard... since to her the bouncy rubber ball is b-o-r-i-n-g... and after we come back in she whines again for hours and hours. The good news is that she gets such a high over playing outside that she forgets her fear of the kitchen floor)

.





I love that last video of the squirrels chasing each other around the tree. I've been seeing them a lot lately.

~♥~♥~♥~♥~

♥

~♥~♥~♥~♥~

By the way, it's been really strange around here lately.
For instance....

1). There have been a few mysterious explosions. They kind of sound like sonic booms.

A few months back we heard them - always 3 spread out over a few minutes - and then we've heard them twice recently.

(We've heard 4 or 5 total in the past couple weeks)

. A neighbor finally called the sheriff, whom looked further into it. He said for people to call in the next time we heard anything. It turns out they're not from aircraft, but he said it could have to do with Isis.

(Practicing explosives in the woods)

. He's not saying it is, but that we shouldn't discount it. That's why he wants people to call it in when next we hear anything; to investigate.

Another possibility - and I think this is the most likely - is that it's from drilling for gas and oil. I do know they've been doing a lot of that around here, so it's the most logical explanation. They say that if that's what it is, then what we're hearing and feeling are mini earthquakes caused by the drilling.

2). Also, and this is frightening, just down the road behind our house there have been at least two baby cows killed.... by a mountain lion!

First the snakes and black widow spiders, then skunks with rabies, and now mountain lions.

It's a miracle I ever step outside. I was so stupid on Saturday night, too. I went outside with everyone, in the dark, to look at the steps that were delivered for the crafting shed. While out there we heard a loud rustling next to the barn.

I'm hoping it was only a deer, since they do come here every night, but around here you never know. There are so many critters out here that just want to kill ya!


I'm quickly learning that Country Living is not for the faint of heart.

Well, that is to say country living with the irritating soundtrack of big rigs that barrel down the road near the house practically 24/7.
But of course, those are everywhere around here.


Sharing with these lovely memes:
CAMERA CRITTERS / SATURDAY'S CRITTERS / I'D RATHER B BIRDIN'