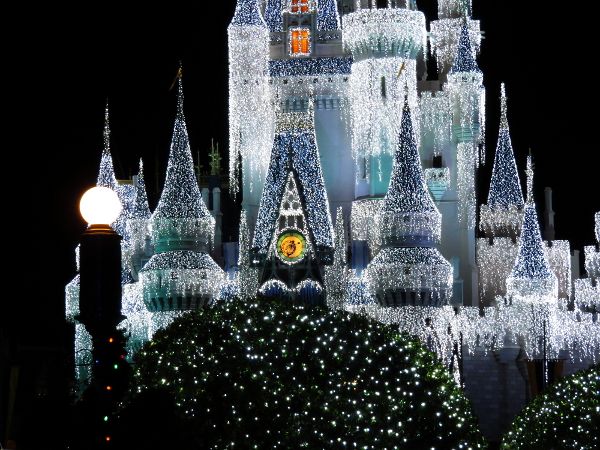 So our trip to Disney World has come to an end. We arrived back home Tuesday afternoon.

The parks were incredibly c-r-o-w-d-e-d this trip. I can't believe how crazy it was for November, especially when the crowd statistics said last week was a safe bet. Because of this, my hope of capturing wonderful video and photos with my new camera were dashed. It was just impossible taking a good photo because the people were everywhere. I'm trying not to get in their way, and at the same time if someone sees me trying to take a photo they try to get out of my way. It was just very stressful.

This trip had it's good moments, and it's disillusioned one's. Disney is definitely changing from how it used to be, which is sad. I'm not really sure I'll ever go back.

The way they've forced dining reservations and fast passes on us just isn't working. It doesn't allow you to spend your vacation YOUR way. There's no room for spontaneity, and we never could get the Disney Experience APP to work in the parks. Over half of your time is spent waiting for a page to load, and who wants to spend their vacation constantly looking down at their cell phone?

I mentioned to my mother that the only way we'll ever get 'That Disney Feeling' back is by staying at Fort Wilderness because that way we can just get pizza's and junk from their little store and then eat most of our meals there instead of at the parks.

Not only are the fast passes and dining a problem, but some of the "cast members" they're hiring now are pretty low class. The lady at the front desk of our hotel actually ROLLED HER EYES at us for not wishing to use our credit card for the dining plan, since we've already paid for the trip. Even one of the security cops there had an attitude about us wanting to get our wrist bands for the party before heading back to the hotel first.

(What business is it of his WHAT TIME we get our wrist bands? They were handing them out already, we needed to get back to the hotel before the party, and then when we'd return we would already have had our wrist bands

).

Let's just say I didn't appreciate the attitude that some of these people had. Not all the cast members were like this, but this was the first time ever - and I've been visiting Disney World since the 80's - that I encountered quite a few of them that needed an attitude adjustment. Walt Disney himself would not have approved.

We need someone like Michael Eisner back. It sickens me to think the new CEO of Disney earns 200 million a year!

And the parks themselves aren't as clean as they used to be. Even simple things like touch-up paint are being neglected. I remember back in the day when you'd see them planting new flowers in the flowerbeds at the hotels - in the dark at 2 am - just because a few of the plants were dying. Great care was taken when it came to the tiniest of details, but not anymore.

But back to the cast members ---

There really are still some WONDERFUL CM's at Disney. The driver on the "Magical Express" bus was great.



And then there was "The Singing Captain" on the boat. He was really something special. It was pretty awesome! I strongly encourage you to watch the video below.



Here's a video I took of "Gaston" over at New Fantasyland. He was so funny!



By the way, New Fantasyland was FANTASTIC!!!!! Even with all the construction still going on at The Magic Kingdom

(near the castle)

and several of the hotels, it was worth the trip for Fantasyland alone. Disney really did a beautiful job with the expansion.

And just for the heck of it, here's a video I took on one of the boats. I love riding the boats there. They always lull me to sleep.





Anyway... we're home now. The first day or two, in the mornings it was freezing at the boat dock, but once you were away from the water is was really nice. But after a couple days the weather turned very hot.



On our last day HEAVY rains came through, with winds as high as 60 mph. You should have seen how crazy the hotel

(The Wilderness Lodge)

was that evening.

I got sick - again - this trip, but nothing as bad as back when I went in 2009.

(Every single time I get on a plane I catch something)

. I woke up Wednesday morning with laryngitis. It only lasted 2 or 3 days, and I think today I'm finally getting better.

I am worried about Mom though. She hasn't rested much this we've gotten back and she keeps getting a fever.

(And here we're having Thanksgiving at our house again. She really needs to rest)

.




I was so HAPPY to see the dogs again when we got home. My goodness were they excited to see us. Izzy especially was really freaking out.



She follows us everywhere now. About an hour after we got home, when Mom left the house to go out to the crafting building, Izzy was so frantic trying to find her that I had to carry her for a while.

Before it got dark Maddie, Abby and I went outside. Maddie sat in the grass, enjoying the cool weather, while Abby and I tossed her pet rock around the yard. Abby was SO HAPPY to be playing her favorite game again.

I'm actually really happy to be home, although I am sad that this was the first Disney trip I've had where it didn't feel like Disney.

(This is the 3rd trip it's felt like that for my mother)

. I do think part of it is because they were playing instrumental Christmas music in every single park and hotel. The music is like a "character" when it comes to Disney World, so the lack of the Disney music did stick out like a sore thumb. At first I was fine with it, but after a while you start to miss it.

What really upset me - at least temporarily - was that we missed the Main Street Electrical Parade. My mother was feeling like hell that evening, and I was exhausted, so 10 minutes before the parade started we left. I haven't seen that parade since 1991, so I was pretty depressed but we were both just so worn out. I felt really sorry for Mom because I could tell she was at the end of her rope.

(Anyone who has been to Disney has gone through this)

. I was pretty close to joining her because, as I said... I was exhausted. At least we can see the parade on YouTube.

Looking back, I'm a little sad that we were in such a bad part of the parks during the fireworks. It was horrible, but I console myself by reminding myself that my brother got it on tape one year. Truth be told, that night I was pretty worn out so I kind of wanted to get back to the hotel even more than seeing the fireworks. I was pretty tired that night and was starting to get sick.

I think this is what's called getting old.

Still, old or not I did ride the new Seven Dwarf's Mine Train. Holy Effing Hell, that ride was FAST!!!!!!!!! You cannot imagine. Apart from not going upside down it was like a roller coaster.

(I've never ridden a roller coaster in my life)

.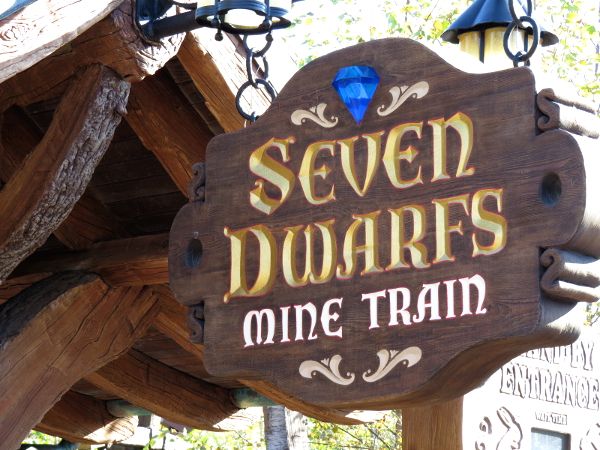 The first time we rode it we were laughing so hard, and I was having such a difficult time filming it because I was holding on to the bar with one hand... holding my brother's camera with the other hand... trying not to damage my brother's camera because this ride was so fast and chaotic... trying to gauge the truth behind my mother's laughter; was she enjoying it, or not?

(She enjoyed it even more than I did)

. Well, after all that, I get off the ride only to discover that THE FREAKIN' CAMERA WASN'T RECORDING!




Thankfully, we had another fast pass so we got to ride it again another day.

Oh! This is weird but while there we kept running into this one lady from Seattle. We ran into her 4 different times, and the last time was at a totally different park on a different day. It was just strange how we kept running into each other. I can't stress enough how CROWDED the parks were, so it was really odd to keep bumping into the same person like that.

Perhaps it really is a small world after all?



What I did NOT see, which was a first, was "Jim" tickling the ivories over at Casey's Corner.

(Jim has been playing the piano there for over 30 years).

I also didn't see even one horse-drawn trolley traveling down Main Street, which means no "Fritz!" I didn't even see him over at Fort Wilderness with the other horses.

I wonder what happened?

I'm sure I'll ramble about the trip in later posts, but for now I'm gonna sign off.