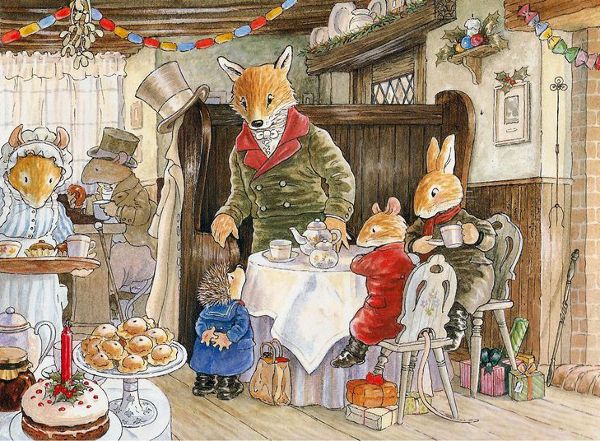 (Artwork: Brian Paterson)



I hope that so far everyone's Christmas Eve Day is merry and bright, and if you're really lucky.... white!

(Not a chance of that happening around here... ever).



It's a beautiful day here, weather-wise. It's all about beautiful blue skies, and is actually cold for a sweet change. We even got to light the fireplace!

I can prove it, too.

Here's the photographic evidence:


(Please pardon the wrinkled pillow in the photo. I'm usually very OCD when it comes to smushy couch pillows, but I took this photo in a hurry)

.




I never see my niece and nephew anymore, so seeing them on Christmas Eve was special.

(They brought their sweethearts with them)

. I often wonder if they even remember how close we used to be before they moved to Austin.

If only I had a time machine...

Unfortunately, our time with them was cut short because just a few minutes before they arrived at the house we got a call from my aunt. She said that grandma

(Mom's mother)

was sent to the hospital in an ambulance. She was baking some candy when her face turned white and her lips blue. She lost consciousness, and her husband told their neighbor to call an ambulance.

Mom didn't know what to do. On the one hand she had family/guests coming over... (family which we never see in the first place, and they were literally just a few minutes away from arriving at our house)... but on the other hand she was very worried about her mother. We didn't know anything about her condition, other than what the neighbor said.

After everyone left our house, Mom and Dad left for the hospital.

So... that's all I know for now. The doctors say she isn't in critical condition, but was dehydrated. She might have had another mini-stroke, but we don't know yet. Hopefully she'll be okay.

In other news, on Sunday my brother and SIL's dog - "Beans" - was deathly ill. The poor thing had to stay at the vet's overnight. He was on fluids, etc. The poor guy was so, so sick.




We were very concerned for The Beansters, and then there was the fact that my brother and his wife were so upset they couldn't even talk about it. Their dogs are like their children, so it was terrifying for them. I felt really, really bad for them.

I felt horrible for all three of them. Thankfully, he's home again and is doing fine.

We were all going to spend Christmas Day at their house this year, but since Grandma is in the hospital we canceled. Their other guests canceled, too. My SIL's stepfather has lost running water or something over at his place and has to wait around for someone to repair it.

You can't say this Christmas has been uneventful! Even our old neighbors back in Spring had a scare a few days ago.

(My mother needed to do some shopping, and drop off presents, so she visited them. It's pretty far from where we live, but when you need to do serious shopping, you can't do it here)

. While they were visiting, they were told that a COPPERHEAD got into their house other day.





Can you imagine? It was INSIDE their house!




(Larger Pic)

A month or two ago my brother and sister-in-law had paintings made of "Beans" and "Crunchy."

Isn't that amazing? My brother sent in their photos, and then this person did paintings of them. I love how they captured their likenesses so well. I was very impressed!

I still can't believe we're not spending Christmas at my brother's house. I admit... I wasn't looking forward to being around any strangers, but at the same time I feel really bad.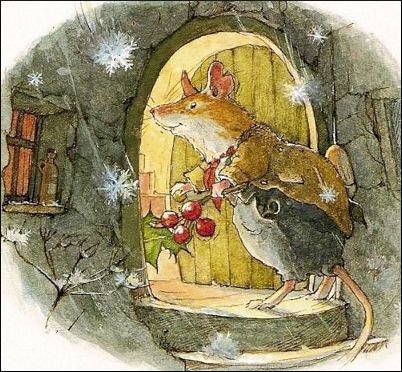 (Artwork: Jill Barklem)



My sister-in-law never celebrated Christmas as a child. Her first Christmas was with our family, and I think she was really looking forward to having Christmas at her new house this year.

We will be seeing them soon though.

(Dog-sitting again)

.

I really have to give my brother and SIL kudos when it comes to taking the time to keep in touch. We see them a lot, and I know my mother appreciates that.

~♥~♥~♥~♥~

♥

~♥~♥~♥~♥~

UPDATE: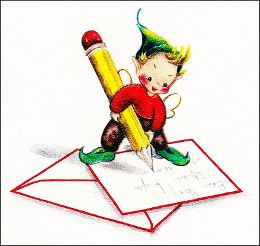 They don't think grandma had a stroke. She's staying overnight for observation, and they think she passed out and was dehydrated because of the medicine she's on; Hydrochlorothiazide.

Which happens to be the same meds my mother has been on for 15 - 20 years. A couple years ago she experienced the same as grandma did today, only Mom also had heat exhaustion and had to be bed ridden for at least three days. For years she's been trying to get her doctor to at least lower her dosage because of the dangers. But you know doctors; they never listen!

Really glad Grandma is okay.