(Artwork: Brian Paterson)



So another Christmas has come and gone. I hope it was a pleasant one for you, and that now you can sit back and relax and reflect.




Or forget about it, depending on what it was like. If it wasn't so swell, it's over now and you're a survivor!



Our Christmas season felt pretty rushed and nonexistent.

(Last year it felt that way, too, because we moved into this house only a couple days before Thanksgiving)

. We just weren't getting our Jolly on. It happens, but at least I tried feeling the spirit of the season.

We don't have anything special planned for the New Year. We're dogsitting my brother's dogs again while he and his wife are in New Orleans. This means that currently the number of dogs (5) outnumbers the humans.

Okay, enough rambling. It's time to get to the point of this post.

I understand that only a small handful of people read this Little Blog 'O Mine...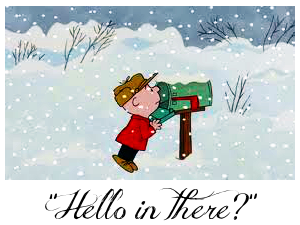 ... so knowing that little factoid, perhaps it was silly spending so much time lately hunting down and editing all those old photos, but I've been so disheartened over how my Disney World photos turned out that I decided to stop brooding over 'The Great Disney Photos Disappointment' and redirect my focus elsewhere.

I've always wanted to put together all those old Christmas photos, so I figured there was no time like the present. Hardly anyone will ever see them, but at least I will.

To make it easier to revisit them, I decided to clump all of my Christmas posts together.

~♥~♥~♥~♥~

♥

~♥~♥~♥~♥~






I want to thank Marie from A Colorful World for mentioning my "Happy Peddler" post on her blog the other day.

(It was the 2nd time she mentioned me)

. Because of her, that post did gain a few new readers. I'm terrible at blog pimping, so it's nice when you have someone else do it for you.


I also want to thank Diane from Always Crave Cute. She's been a regular visitor as well, as has pinned a few of my photos on Pinterest. I have quite the love affair with Pinterest, and her Pinterest Boards are one of my favorites, so being included there makes me glad.

I especially love seeing my "Wendy Kitty" on there. I miss that cat so much.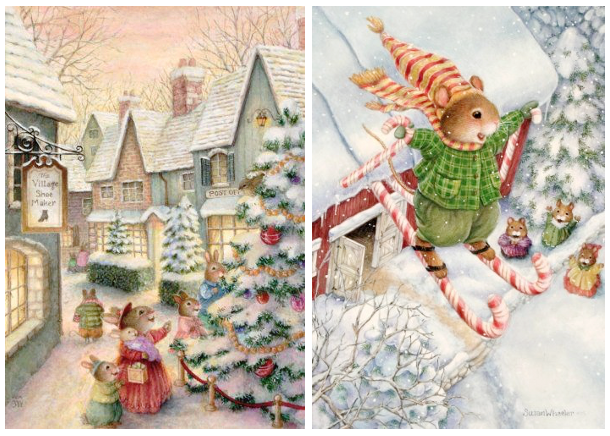 (Artwork: Susan Wheeler)
Christmas Decorating at our old house in Spring:
Hang Up Who-Boo-Hoo Bricks
Our Pets at Christmastime:
Furkids Christmas Past
The Kindness of Strangers:
Christmas Spirit through The Happy Peddler
Mom's Christmas Lantern:
Jack Frost, Where Art Thou?

This year's decorating at Crick Hollow:
Do they still make wooden Christmas trees?
Glitter Houses we've made over the years:
Glitter House Love
Our Christmas Tree Ornaments:
Bingle Balls and Whofoo Fluff
My old Christmas Village, which I miss displaying:
Christmas Village Love
Niece and Nephew's letters to Santa:
North Pole Post Office
Christmases Past:
The Magic of Christmas during Childhood
Twas the Night Before Christmas:
Christmas Eve 'Catastrophe'
Christmas Day:
Crick Hollow's Lackadaisical Christmas Un-Celebration
New Years Eve:
So Long, Farewell 2014
Crick Hollow Christmas Preparations
Bells are Ringing, Choirs Singing
Goodbye, Christmas
Such Party Animals