(Artwork: Jill Barklem)



After days and days of rain, and one heck of a thunder and lightning storm the other night, it's a cold and windy day today.

Abby and I played outside...

(and as always Maddie happily watched us from her shady spot)

... but we had to go back in when a hawk tried snatching her up.

I am really growing tired of these hawks! They're everywhere around here. Absolutely everywhere. They're very, very sneaky too. When we lived in Burton, one tried snatching up Izzy and today it was little Abigail.





- A few weeks ago our old neighbor cleaned out her barn.

(She sold it while we were at Disney World)

.

My mother and I have always been madly in love with that beautiful big barn. It sits on the 2 acres next to us. It's right next to our own dilapidated barn actually.



(Larger Pic)

Well, it might as well be called a shed. It's just a huge, banged up old pole barn that doesn't even have a floor. It's open to the elements, so the bins we have in there are extremely dirty and dusty. I absolutely hate that. Before we moved here, animals used it.

Nevertheless, the barn next to us belongs to some guy and his wife now. They paid $90,000 for it and all they're doing with it is storing their boat.



(Larger Pic)

I just hope they'll treasure that barn, and the acreage it sits on, as much as we would have. I very highly doubt that that piece of property, and it's barn, will ever live up to it's full potential now. It makes me very sad because it really does feel like that property should be joined with ours.

Deep in my gut I feel the overwhelming urge to get out the clippers and cut the barbed wire connecting that property with ours. It really does feel like it should belong with us, but... oh well. It is what it is.

~♥~♥~♥~♥~

♥

~♥~♥~♥~♥~




- Last night we took the ornaments off the tree, and today I put away the remainder of the Christmas decorations.

Which meant a lot of slogging through the mud between the house and barn/shed. I also moved my little heat stove from my bedroom to the new workshop.

The only Christmas decorations left to put away are the little vignettes that I made inside the china cabinet. I think I'll leave them there for a while though, because seeing them makes me smile.

~♥~♥~♥~♥~

♥

~♥~♥~♥~♥~

- We've been seeing the deer and Diana Cottontail again lately. I saw the rabbit when plugging in the Christmas lights to the gate one night, and this morning Mom found her underneath the tarp we have covering our plants from the cold.

Yesterday, before sunset, we saw some deer on the neighbor's property again. Aren't they beautiful?






I've been trying to catch them on our new outdoor camera, but so far they've stayed away from it.

(I think because of all the rain we've been receiving)

. They were near it last night, but wouldn't you know that was the ONE night I didn't turn it on?

~♥~♥~♥~♥~

♥

~♥~♥~♥~♥~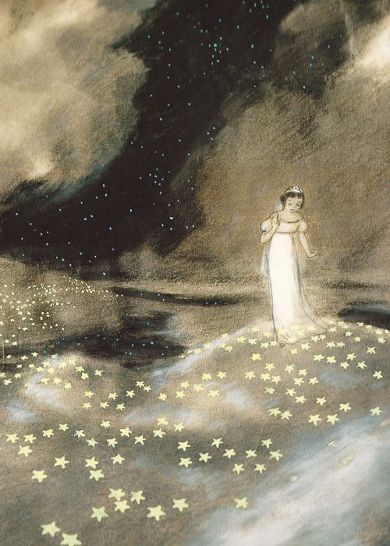 (Snow White Concept Art)



- A few days ago I took another photo of the moon, and I have to say it turned out really nice.


I then did a short video as well.




(Artwork: Susan Branch)





I'm sorry the video is shaky, but that's because my tripod isn't the best. It never locks where it's supposed to, so I still have to sort of guide it manually.

I took the photo and video before it turned dark, too. It was still pretty light out.