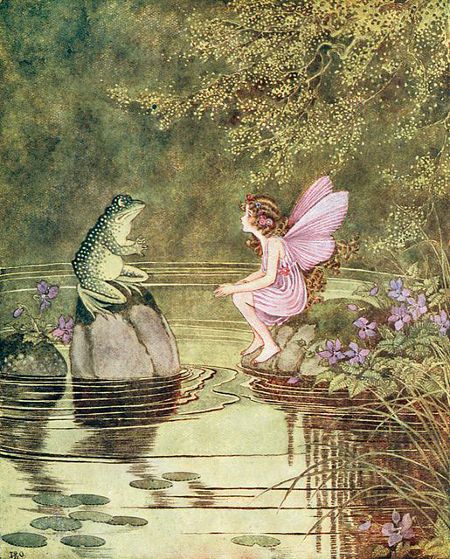 (Artwork: Ida Rentoul Outhwaite)



"A lady, with whom I was riding in the forest, said to me that the woods always seemed to her to wait, as if the genii who inhabit them suspended their deeds until the wayfarer has passed onward: a thought which poetry has celebrated in the dance of the fairies, which breaks off on the approach of human feet."

~ Ralph Waldo Emerson





It's official. I have faeries on the brain!!!

Some call them Fae, some call them pixies or sprites or fairy folk...but I call them an amusing fascination.

And maybe

(at times)

even a bit of a nuisance, because ever since I built my first fairy house the other day my mind has not stop racing with ideas for more houses.

In lieu of reading Highland romance novels, or watching classic black-and-white movies like The Ghost and Mrs. Muir every night, instead I find myself hunched over the kitchen table with a glue gun in my hand and glitter pixie dust in my hair. While at the grocery store, I look at all the products lined up on the shelves in a whole new light.

That Quaker Oats box isn't just for housing oatmeal. Why, it's faerie-sized. Can't anyone else see that? The bristles on that broom aren't there merely for sweeping floors. I mean, come on! Clearly, it's thatching for a little roof. And what of these battery operated tea lights? Why am I picturing fairies dancing around the flickering flame?



Ooh, campfire!

Will this madness never end?


I plan on making outdoor houses, too, but this one is for the indoors. Currently, I have it displayed inside the guest room. The guest room which, coincidentally, already has two little Flower Fairy decals on the walls.





Because what's your first fairy house without a magic wand, and a frog prince needing a fairy's magical services?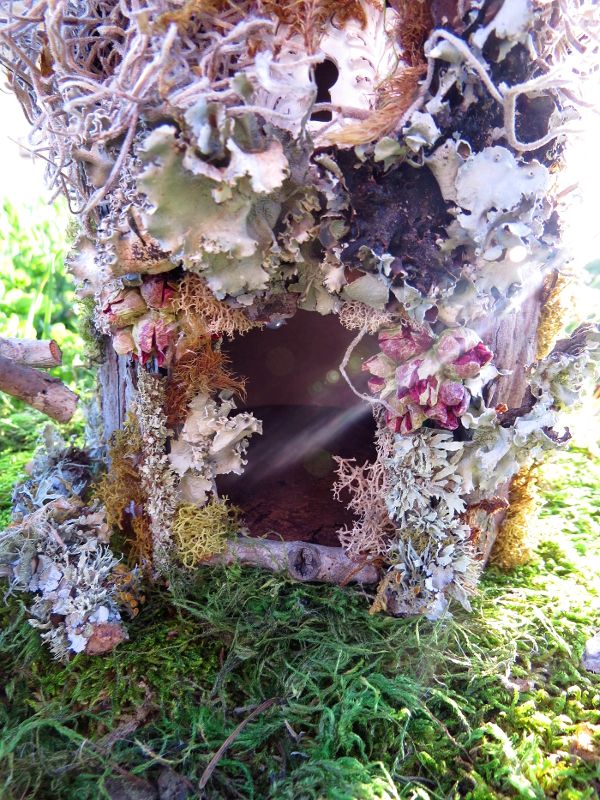 Is that a fairy flying past?



By the way, making this house introduced me to "Happy Accidents." See that tiny droplet of glue over the doorway? I decided not to get rid of it because it reminded me of a dew drop.




It took days for me to find that little bird. I knew it was inside one of the bins in the barn, but I was so petrified of a snake(s) being in there that it took several attempts for me to gather the courage to look through the bins really well.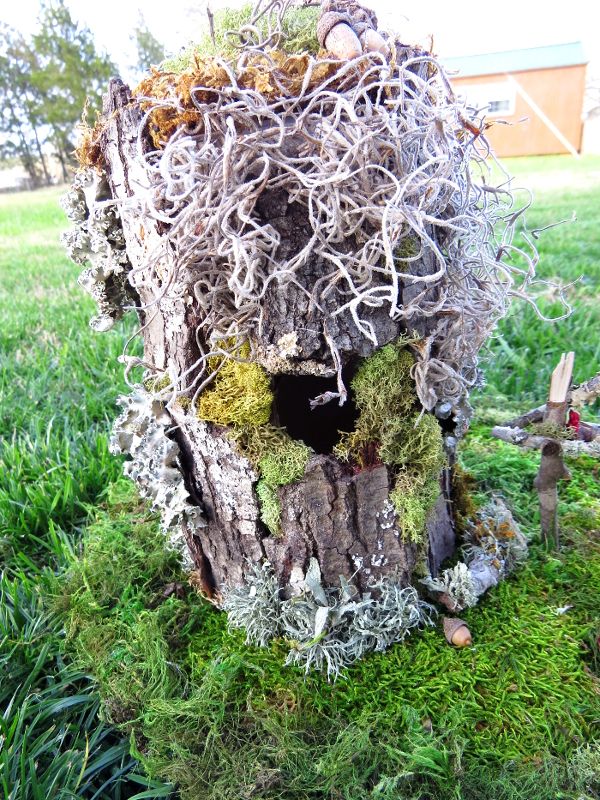 I do wish it was visible in the photos, but I sprayed a small amount of "fairy dust" on the log bench.

(It's a sparkle spray)

.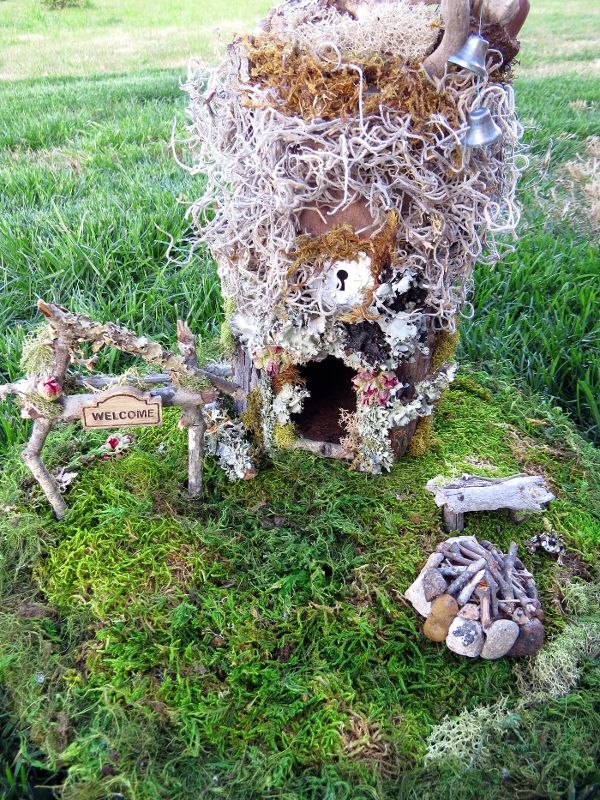 Another fairy caught on film?


I hope she doesn't mind the house not being furnished.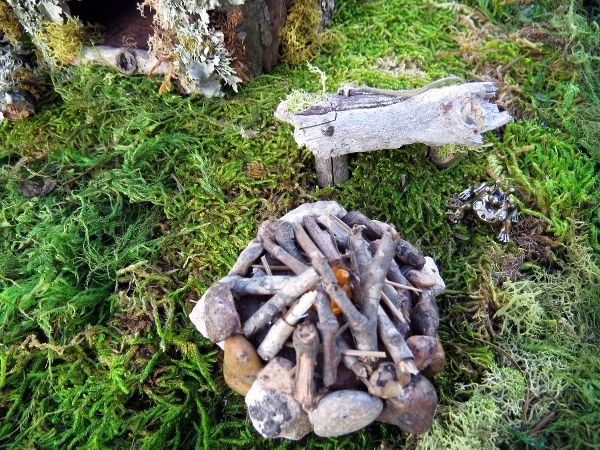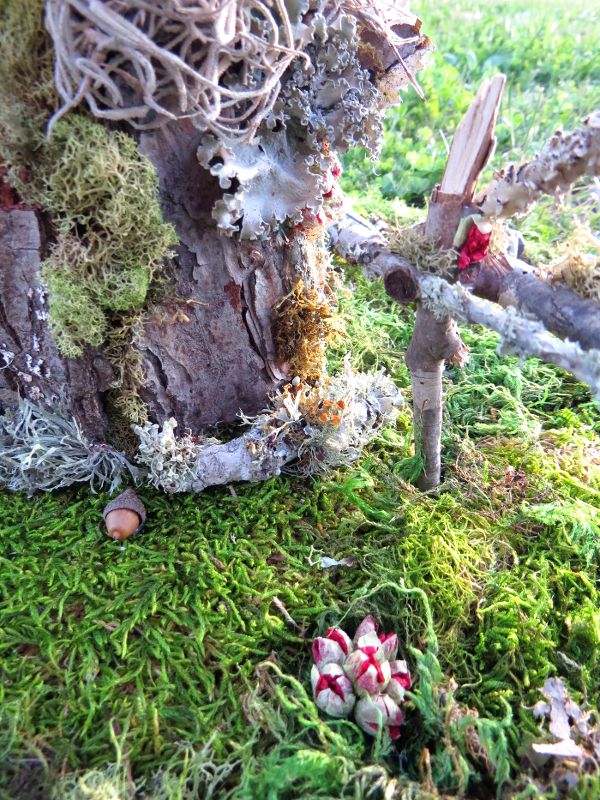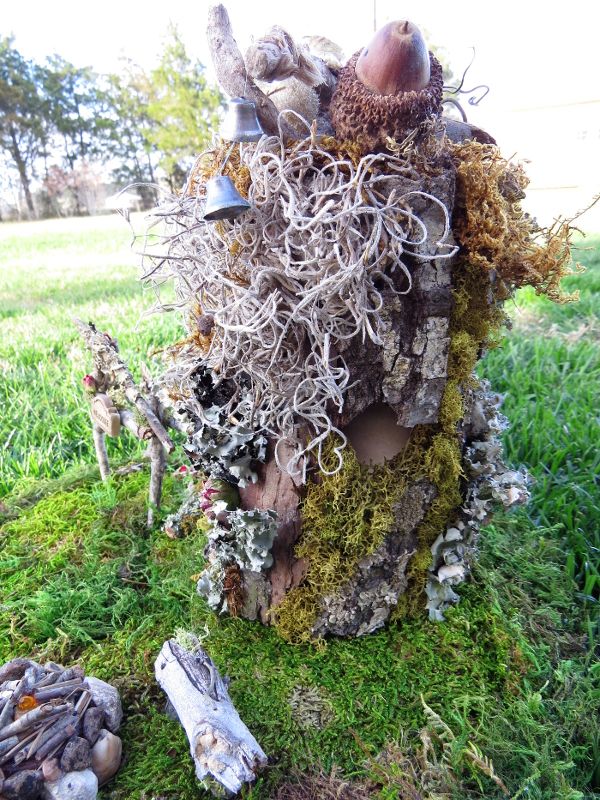 I was so happy to find those little tinkling bells! My grandmother gave those to me, along with a few other miniatures a while back. All I did to them was paint them silver. Easy peasy!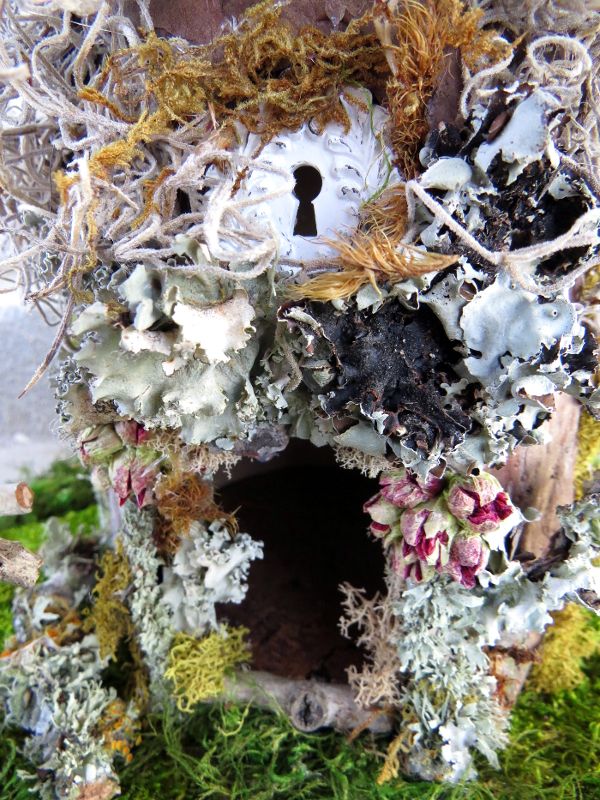 Because when in a hurry fairies prefer to just fly inside key holes.

Not to mention Fairy Fact No. 1: Closing a door can be tricky when you have gossamer wings to protect!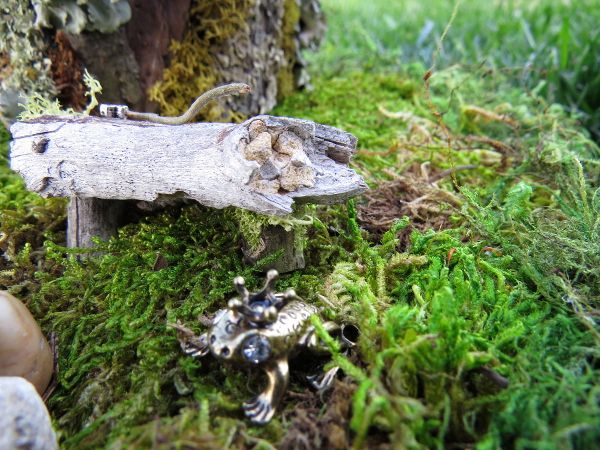 I didn't like the brightness of the sign, so I tried to make it look a little more natural by dry brushing some 'Burnt Umber' paint over it.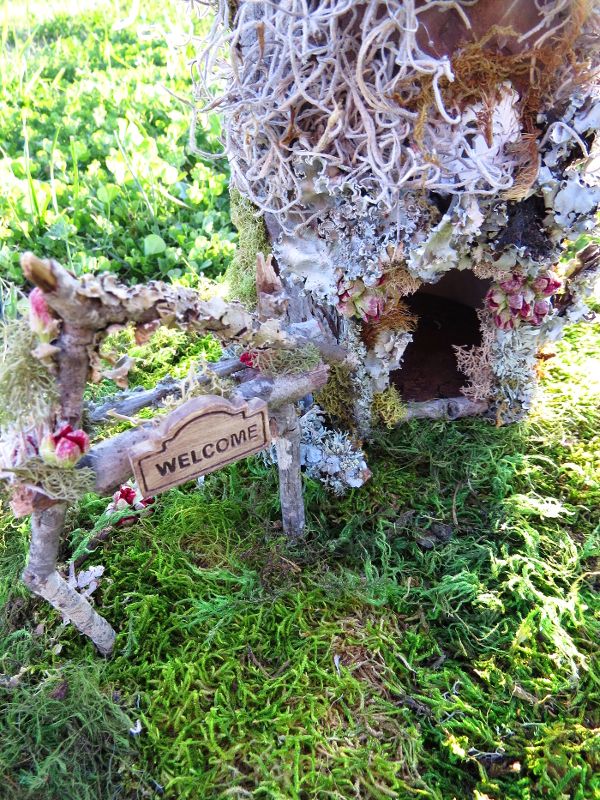 I tried using natural materials whenever I could. Luckily, that isn't much of a problem where I live.

The only man-made items I used were: flooring, frog prince, welcome sign, keyhole, the tiny star for the wand, and flowers.

(And the flowers I used I wanted to look as natural as possible)

.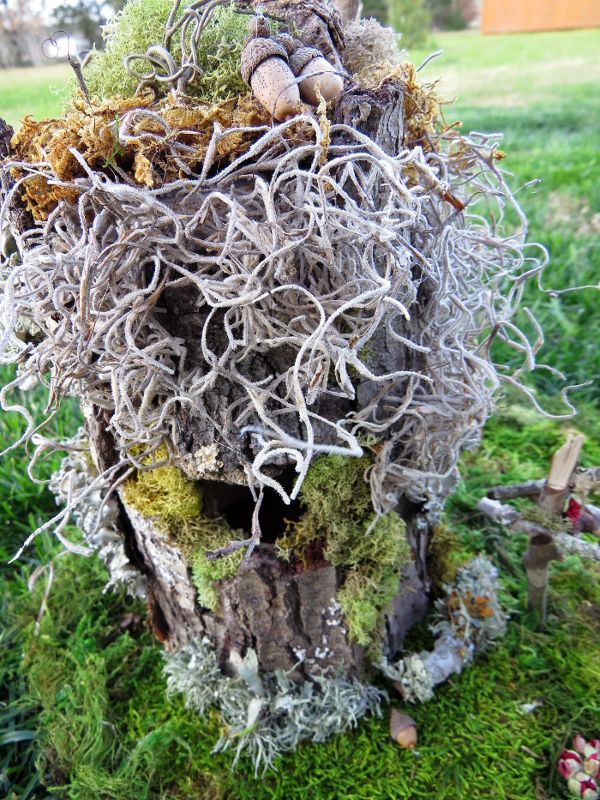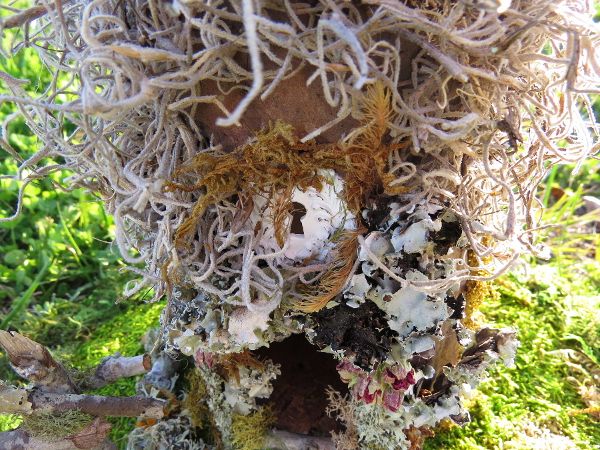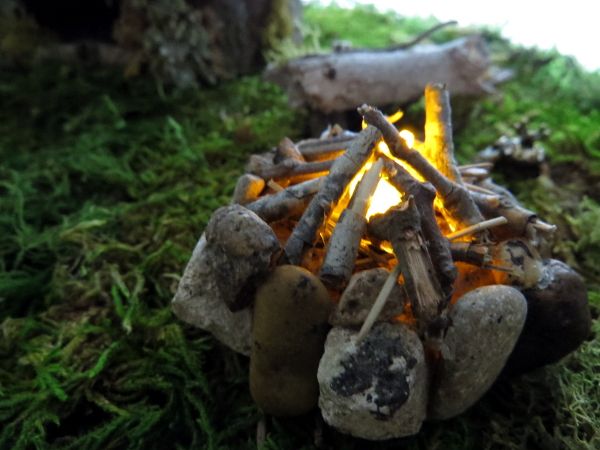 The campfire is made from a flickering tea light. Here's a quick video that I took of it: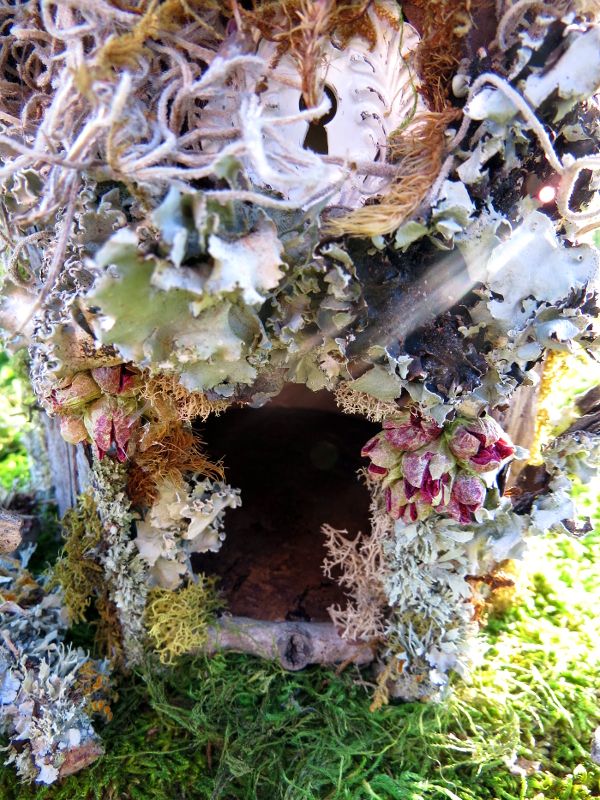 Yep, I'm saying it's a fairy!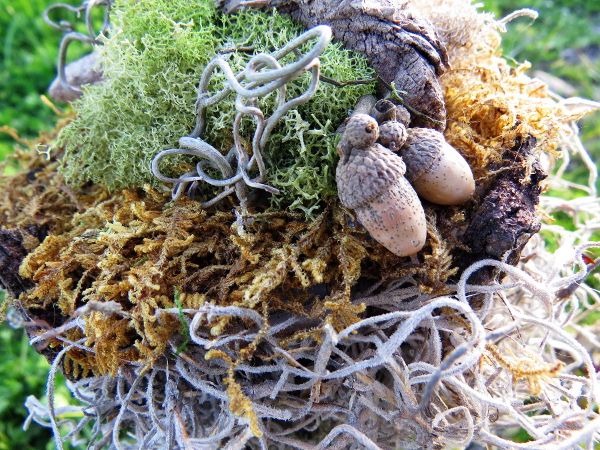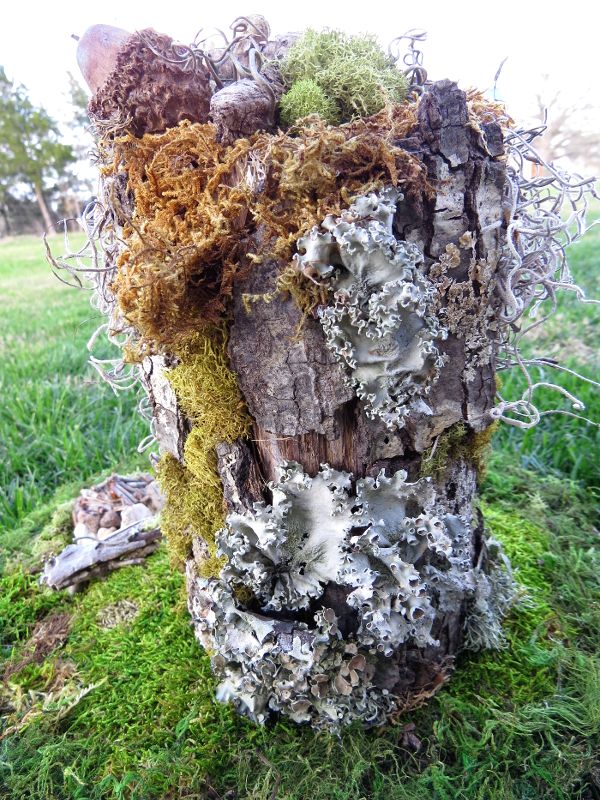 And that's it. My very first fairy house, which I'm surprised to say I'm actually pretty proud of. I do wish I had decorated the inside...

(all I put in was the floor)

... but other than that I'm content.

I learned a few things in the process of building it, but most importantly I learned that with fairy houses the term "mistake" doesn't apply. When something isn't going as planned, it's time to discard that plan and just go with the flow.

(Psst, I have the sneaking suspicion that if you take it all too seriously, the end result of your fairy house won't be anything that a fairy would want to be a part of anyway. I think the ENERGY you put into it is the main draw)

. If you're not having fun, you might as well walk away.

What I loved the most about this project - and I cannot stress this enough - was the fact that a fairy house is supposed to be a reflection of the natural world. There are no right angles or perfect lines in nature. There's color, and texture, and even character... so whenever I hit a roadblock in the building of my house, I just tossed some moss or over it and moved on.

Okay, I think that's enough rambling from me. BUT--

Word has it that in wintertime the fairies like to curl up inside the heart of a tree and fall into a calming sleep. Winter will be over in no time

(insert crying jag)

, so if you believe in those legends you might want to keep an eye out for them in the forests. They should be waking up soon.

And watch where you step!

~♥~♥~♥~♥~

♥

~♥~♥~♥~♥~

Linking to these lovely memes:

DIY Show Off / Brag About It / Inspire Me Monday / Show and Share Tuesday / Wow Us Wednesday / What to Do Weekends / Craftberry Bush / Show and Tell Friday / Flaunt It Friday / Show and Tell Saturday / Shabby Art Boutique / French Country Cottage