(Artwork: Tasha Tudor)



The other night was surreal. We counted SIXTEEN baby bluebirds in our birdbath. Sixteen!

While that was going on, there were 3 deer by the neighbor's pond; two of the deer had antlers. The hummers were flying around the feeders as usual, then when my mother went to the front porch she saw a baby cottontail in the garden bed just inches away from her. Next, she looks up and sees a rainbow in the sky.

It was like being inside a Disney movie. I can't make this stuff up!



Since then, the deer and bluebirds still return.

(The hummers are always here, although lately there's been more than usual. When they first arrive in the spring, we usually see anywhere from 15 - 20, and then it dwindles down to about 3.... but nowadays we usually see 8 of them)

.

It's a good thing I rarely enter blog hops anymore because I'm disappointed with these pics. They turned out so dark. I guess having to take them through the window is the culprit.

(The lens fogs up constantly, due to the humidity outside)

. Still, I couldn't not share the beauty of seeing so many bluebirds at once. It was truly surreal to see.



FYI:

Most of my critter pics from here at Crick Hollow I now post on Facebook.

(Although I do still post some here on my little echoey blog)

. It's just a lot easier that way.





Abby: "Bath-time, again?"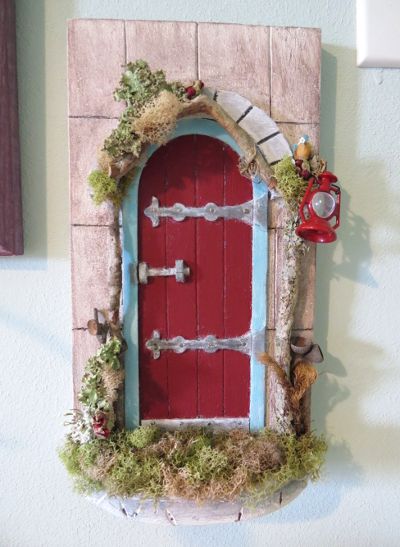 Here's my second try at my Fairy Door for the craft building. It came from Hobby Lobby. I decorated it nicer the first time around, but unfortunately it broke when the insulation was being put in the ceiling.

(Not that the insulation or AC has helped in cooling off the building one bit. Daily, it's usually 104 degrees in there. It's clear that we won't be able to do any crafting in there during the summers)

.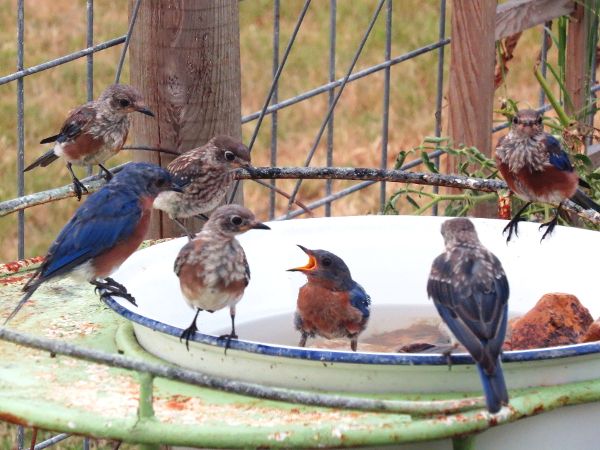 This was the sunrise on August 13th, right after the Perseids Meteor Showers. I stayed up all night, starting from about 2 am, watching them.

(I have a grasshopper to thank. I woke up, then when I turned on the light there it was staring at me on the door frame. I took it outside, looked out the window, and remembered the meteor showers)

.

It was fun because it was lightning the entire time

(the cloud with the lightning looked like something out of Close Encounters; saucer shaped)

... I heard a coyote howling far in the distance... the crickets were singing... at one time a frog in our garden bed croaked so loudly it was funny... and then a few times I heard a rooster.

(First time I've heard one around here, believe it or not)

. I didn't hear the neighbor's loud peacocks for a change, so I guess they're not very nocturnal. At one point I heard a whippoorwill, then immediately saw the prettiest meteor of the night. It was near the barn.

I've decided to finally learn how to do night photography with my camera. This pic is bad b/c it was still dark - barely at sunrise - and I was just messing blindly with the camera settings. I couldn't really see anything on the camera. It gets pretty dark out here, and I didn't want the flashlight to wake up the dogs and get them barking. I can't wait to really practice!

This post turned out to have a lot of photos, so I'll stop there. A LOT has been going on this month... a neighbor's cat adopting us, my poor mother couldn't walk for days because of what the doctor thinks might have been a spider bite, and then my sweet Maddie Kate went to the vet yesterday... so I'll probably ramble about some of that later in the week.

~♥~♥~♥~♥~

♥

~♥~♥~♥~♥~

Sharing with:
I'D RATHER B BIRDIN'