(Artwork: Debbie Cook)



So Toby Tyler is in his new home with my uncle, and last Tuesday we took him to the vet for his shots and micro chipping.

Toby had a different vet than Maddie had when she went in, and this particular vet.... PERFECTION! Oh my gosh, he was so lovely. It's his first year practicing and it turns out that he and my mother know some of the same people at the clinic at A&M University where he did his 4th year.

(He says our family friend Lucy - the secretary there - is what helped him get through it)

. He was so personable and kind towards Toby. From now on we want him to be the vet for all our dogs. We were so impressed with this young man.

And as for the cat... oh my gosh was he an angel!!!! Never in my life have I seen an animal so calm and accepting of being poked and prodded. He never even made a sound. I was so proud of him.

My mother really bonded with him at the vets office. When we left the office she kept saying how much she hated to see him go now.



Of course, that really wasn't an option. We just couldn't take proper care of him here with the dogs we already have, so we decided our best option was giving Sweet Toby Tyler to my uncle.

(That is my uncle whom also is the sweetest)

. He loves cats, and animals have always loved him. He's really missed having a cat around, and the last cat that was supposed to be given to him my mother's husband lost, so... it was perfect timing.

He's pretty much all alone in the woods out there, so at least now he'll have company.

On the day we dropped Toby off to his new home, he was pretty frightened. When we first arrived he found a hiding place, but started coming out when my other uncle started calling him.

(He also lives there, in the main house just across from where Toby's living)

. I wasn't too shocked though because animals - and kids - have always loved him.

After a while we finally scooped Toby up from his hiding place. I think having so many strangers in the room with him was overwhelming, so he decided to hide in the bedroom.

When we left my uncle's house Toby was still hiding underneath the bed. I didn't even get to say goodbye to him, so that was upsetting.


For all the time that Toby was at our house - since August 19th? - we all tried not to pay too much attention to him because we didn't want him to get attached to us, and vice versa. However, his last 2 or 3 days with us that notion went straight out the window. We couldn't help ourselves.

This cat THRIVES on attention....

(whenever I would pet him he would salivate a little. Lol!)

... and sitting in your lap, so I'm really glad he has a real home now.

And one that's indoors! Now I don't have to worry about him keeping warm when it does get cold.

(Not that it's anywhere near being even cool yet. Fall doesn't really visit us)

.



FYI:

Most of these photos had to be taken through the windows..... again. The lens kept fogging up. Darn humidity!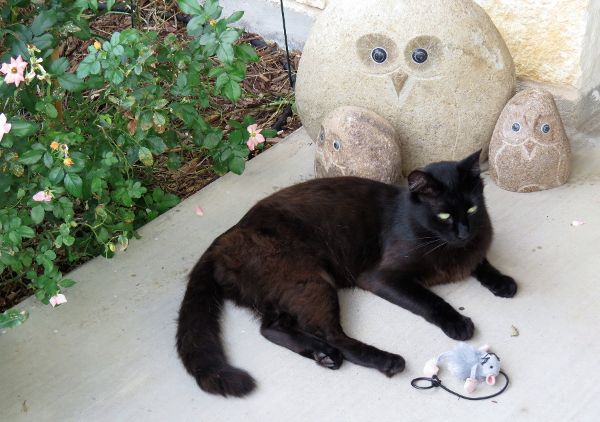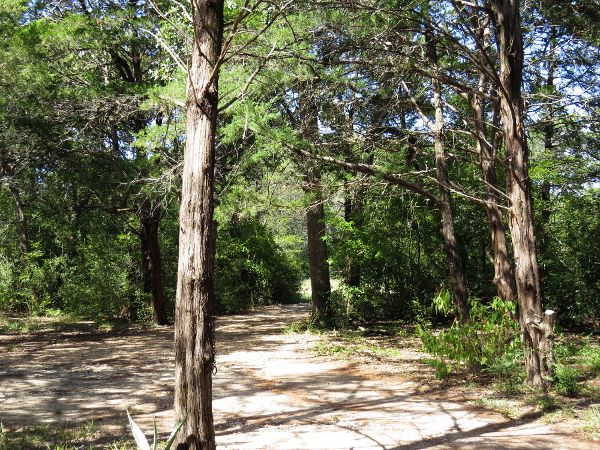 This is looking back at the entrance of Toby's new home. I heard that my uncle asked Toby if he wanted to sit outside with him the other morning. Toby's reply was walking back into the house.

Actually, I don't think he stepped even one paw outside. He just peered out, but decided against it.

Which I'm really happy about since I'm not a fan of letting cats outdoors.

(Not permanently anyway)

.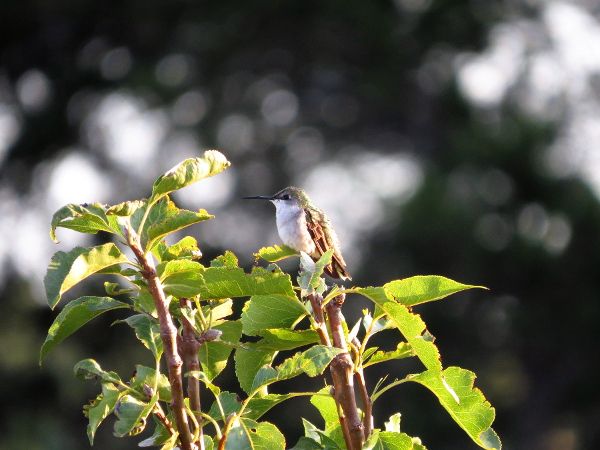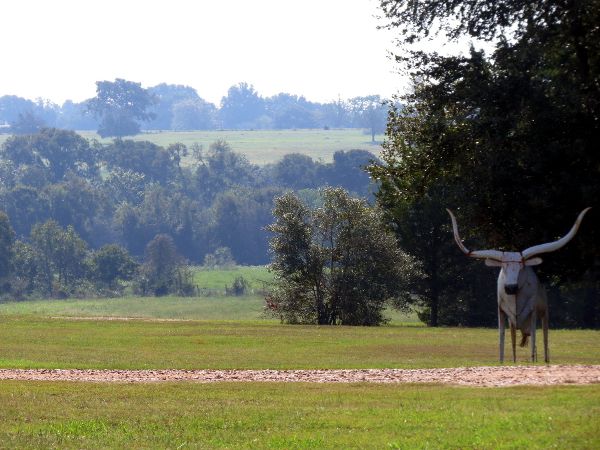 Taken at Round Top.

(The ever-so-popular Antiques Fair that happens twice a year in a little town with a population of 90. It's home to the "Junk Gypsies," and people even fly in from other states to attend. A few celebrities are even known to drop by)

. We didn't stay for too long because it was another hot day; 97 degrees. Not every venue is open yet either.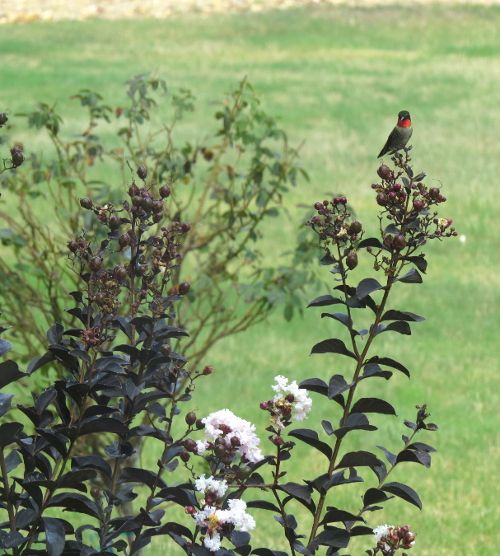 I found it an odd/humorous coincidence that Izzy AND Toby - two animals that have never even been around each other - both place their 'babies' in front of the doors.

(Izzy does this to keep track of us I think; like a human GPS 'alarm' system since her babies do have squeakers in them)

. Either it was just a funny coincidence with Toby's mouse, or it was his second offering to us, thanking us for feeding him.

(He left a dead lizard on our doorstep a few days after he first arrived)

. I asked him not to kill anymore critters for us, so... does this mean he understands English?


I think our dogs are a wee bit spoiled. This isn't even half of the babies/toys that they have. This is just what they've recently dragged from their toy box and into the living room.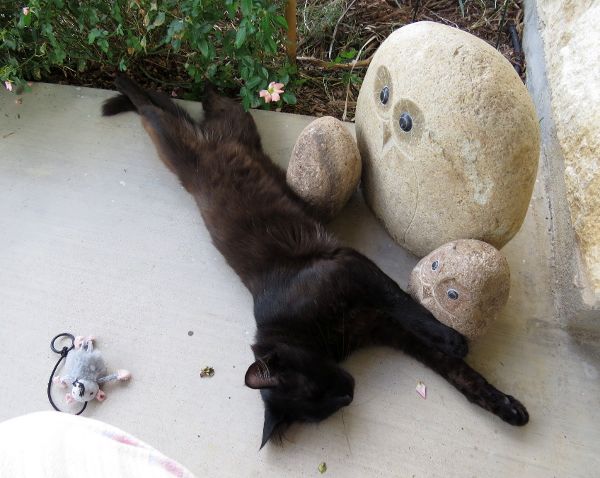 This photo, and the next, was another one taken after Toby's vet visit. I think the way his legs are stretched out is hilarious. He was so laid back.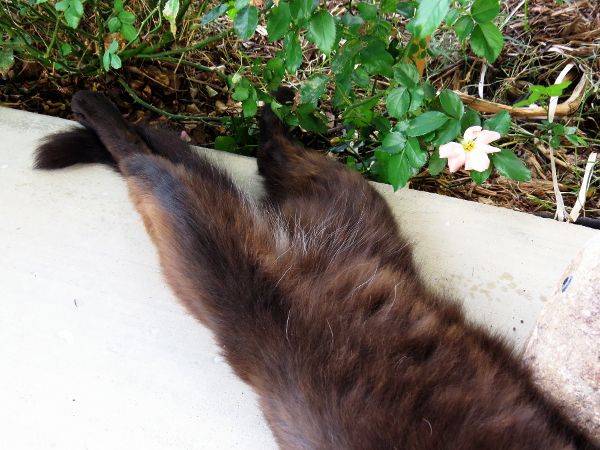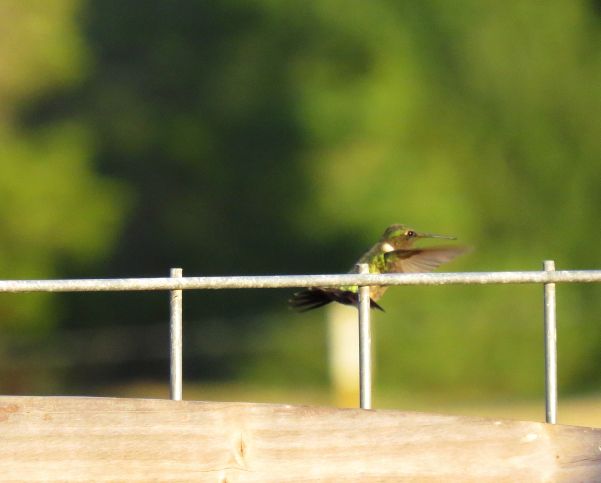 I was outside with Abby the other night, telling her to hurry it up because the flying bugs at night are annoying and I didn't want them coming inside the house. Then, off in the distance, I kept hearing a strange sound. At first I thought it was a horse, but knew it couldn't be because around here it's nothing but cows. Only one neighbor a few acres over has horses, but we never see or hear them.

Since we have such a large variety of birds out here, I figured it must be some kind of nocturnal bird.

(To be honest, it sounded like a cross between a horse and a ghost moan.

It sounded a little eerie; I guess because it was some distance away)

.

When I came back inside I looked it up online and discovered what it was I was hearing.







This video was taken a few weeks ago. I just never got around to uploading it until now.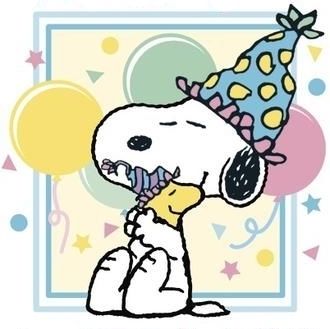 My niece just had a birthday. I still can't believe she's started her first year of college. College! How did that happen?

Oh, yeah. I got old. "Timey Wimey."

For days I tried wishing her a happy birthday on Facebook, but it wouldn't let me log in.

(Firefox won't allow me to log in to Photobucket either. I'm even having trouble copying/pasting things, so I don't know what's going on)

. I didn't want to log my mother out of her FB account in Chrome, so today I finally decided to just post from her account.

I hope she didn't think I forgot about her! Surely not. I'm not THAT old.