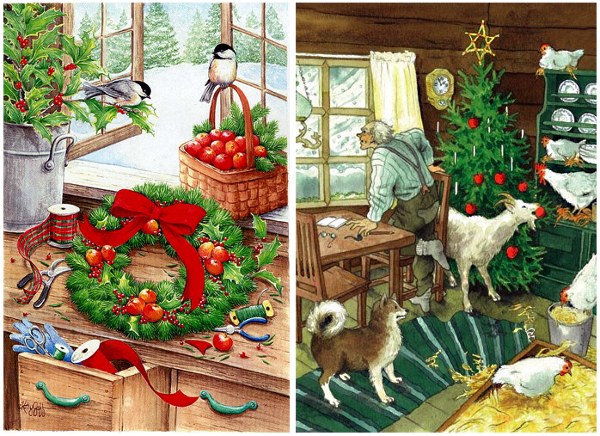 (Artwork: Kathy Goff and Inge Look)



First of all, let me just say that the dangerous critters are everywhere. It feels more like Halloween here at Crick Hollow than Christmastime.

Here's what I mean:

- Yesterday I think I saw a dead wolf or coyote on the side of the road. (

All I know is it was BIG, and it's fur was really fluffy)

.

- In College Station today my father saw a bobcat standing at the side of the road.

- Tonight the people in our 'neighborhood'

(if you can call it that)

received an email that there was a bobcat very nearby this morning, and that even more bobcats have been seen as well.

- When the sun was almost completely set tonight, I took the girls out into the backyard to potty. Izzy sort of jumped and then ran in the house. I wasn't sure if something startled her or if she just wanted to get back inside the house with the other girls for fear of them getting a treat before her.

I had to know, so I got the flashlight, stepped down on to the brick, and then shined the light on the fence where she had been. I saw nothing, so I thanked my lucky stars that if probably wasn't a snake.

Of course, just then I hear A LOT of scraping and a commotion on the side of the house - directly behind me and only about 12 inches away. In the corner of my eye I see a small animal; just a flash of gray fur. The only thing separating it from me was our little watering can.

(Color me petrified)

.

I was terrified of 1). Being attacked, and 2). The dogs getting attacked from going back outside since the door was still open.

And so I did a quick MacGyver move off the brick, back onto the patio and inside the house.

Normally, I would have thought it was just another rabbit but a couple months ago we put up netting alongside the fence to keep them out.

(They used to loooove hanging out in our fenced-in backyard at night)

. I don't think it was a rabbit though because every rabbit I've ever seen around here has been brown and not gray. I also don't see how one could have gotten through the netting.

I then thought maybe it was just a squirrel, and it was trying to hide some nuts inside the watering can. Hopefully that's what it was, but even so... we've had a few rabid skunks in these parts before so you can never be too careful.

I just hope all these critters will steer clear of us from now on!



Although I did see something funny yesterday.

(Apart from the scary wolf/coyote).

During the drive to see the new Star Wars movie a blackbird crossed the road in front of us.

It looked so funny seeing a bird just aimlessly walking across the road like that; as if his comrades dared him to do it.

(That reminds me that a couple weeks ago my father saw a group of chickens crossing the road. As in literally crossing the road. Lol!)



Okay, enough babbling, for I now bring to you... drum roll... part 5 of my lousy Christmas photos circa 2015. (Apart from my first batch of Christmas photos, I don't know what happened. Sigh... I'm thankful no one is looking at this).