(Artwork: Brian Paterson)



Christmas and New Years is blessedly over, the Christmas tree has been put away, and Obama's true legacy is finally inside the White House.

(I really enjoyed watching the Inaugural proceedings over the weekend. That was the first time I've ever really paid attention to one)

.

But what's been going on around here lately?
1). We had rain, rain, and more rain for several days.



Our property looked like that bog in that one creepy scene from Lord of the Rings, but thank goodness the rain has now passed and it's been absolutely gorgeous weather. It isn't cold - at all - but it's been blue skies.

2). On Saturday my parents best friends came over.

(We used to live across the street from one another before we moved)

. It's always nice to see those two gals. They - and their kids - are like family to my Mom.

3). We're still deciding on paint colors for the house.

(We're just so tired of it looking like a band aid)

.

We're also trying - unsuccessfully so far - to decide on a paint color for a couple rooms inside the house.

4). I don't know why, but the donkeys and cows around here have been very VOCAL lately.

(Although the cattle I'm always taking pics of are still quiet. It's the other nearby livestock that are so noisy)

.

5). Yesterday we had such heavy winds. You would have thought a hurricane was blowing through town. It was really strange. The gusts ran up to over 50 mph, so some of our chairs were tossed across the yard and everything is covered in dirt.

Luckily, the electricity only flashed on and off a few times. (I just heard that the Junk Gypsy Headquarters in Round Top lost their power completely and they had to close their store).

The poor donkeys next door

(Mom named them "Anna" and "Elsa")

absolutely hated those strong winds. They hid inside their barn for most of the day.

6). I recently made one of my Christmas trees a Valentine tree

(with whatever decor I had on hand)

, and tried my hand at needle felting.

I started off making a medium-sized mouse, but I ran out of the felt that I was using. Since I had hit a roadblock with the mouse, I decided to try my hand at felting a little dog. My first one was a little gray dog and the second a white dog.

(The gray dog confided in me that he wanted a companion).



They're both pose-able, but since I've still a newbie I'm not going to take my chances at messing them up.

As you'll tell from the photos I took of them, it's been a learning experience for sure.



I've definitely made some mistakes, but in trying to correct them I was only making things worse.

(Especially on their faces. For example, I used too much felting material on the gray dog's mouth and nose)

. Because of that, I decided to just leave them be.

(I also pretty much gave up on their paws. I could not for the life of me get the felt to wrap around the tips of their paws. I'd rather learn how to use clay for their feet and noses anyway)

.

I really wanted to make a long-haired pup, and one with wavy or curly fur, but I don't have any of the higher end felt just now. You work with what ya have.

(I don't even have whiskers for them)

.

I know for a fact that I will never be able to make them look beautiful or realistic, like the ones I've seen all over Pinterest, but it was enjoyable.

Well, for the most part it was. I'd be lying if I said I didn't feel like tossing everything in the neighbor's pond a few times.



Note:

After taking the photos I realize I need to "groom" the little guys. Those strands of felting weren't so noticeable until I uploaded the photos. In person they don't look so scraggly.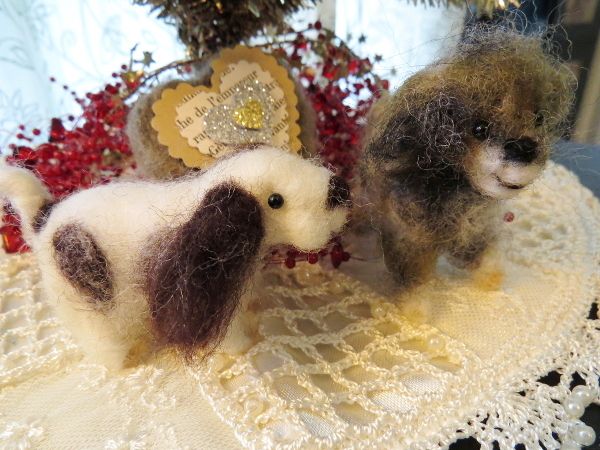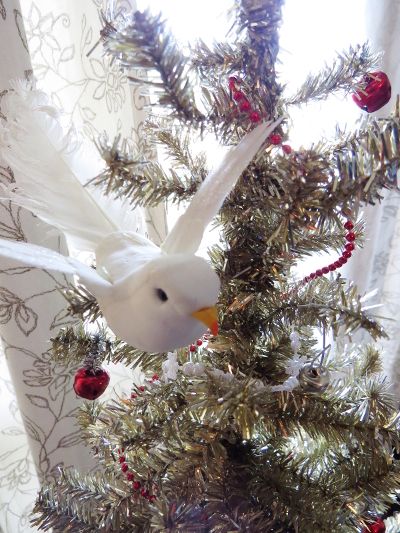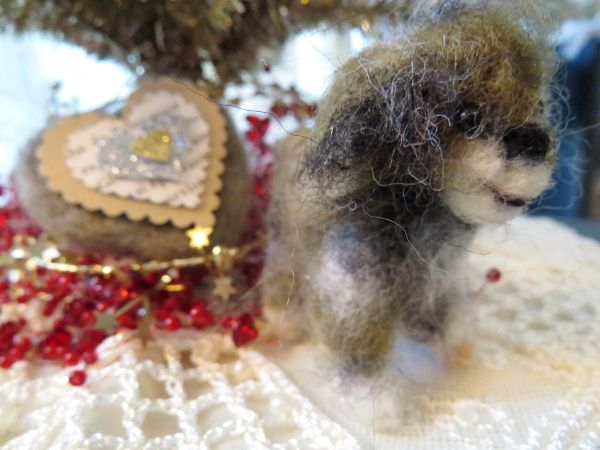 I should have added little brown spots on the white dog's cheeks, but I felt that if I did it would only draw further attention to the fact that he doesn't have whiskers yet.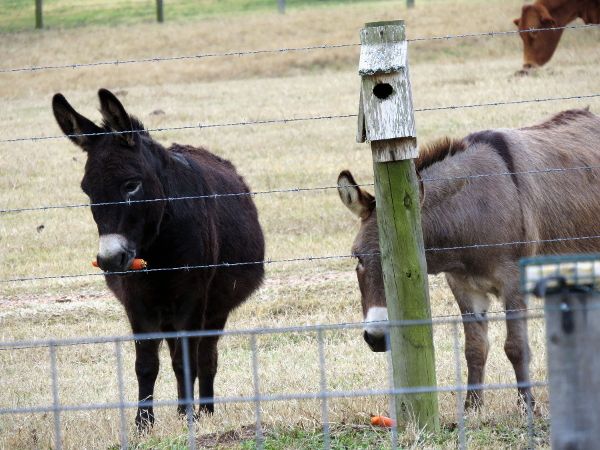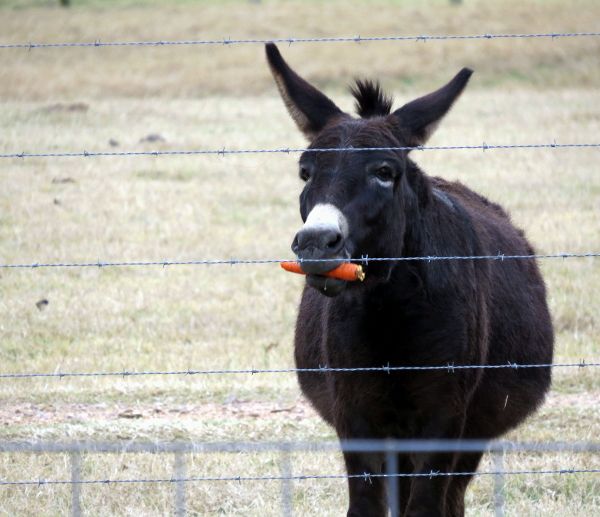 See what I mean? His mouth and nose are driving me nuts, but in trying to correct it I was only making him more deformed.

I have to give myself a break though since he was my very first try at felting and a lot of it I just winged along the way.

(Finding in depth tutorials was difficult, so I had to incorporate several tutorials as well as just making things up as I went along)

.

FYI, on the white dog's rump I decided to add hidden Mickey Mouse ears. Lol! (And I purposely didn't want them to be perfectly round, since on real animals the 'patterns' we see on some of them - as in hearts, etc - aren't ever perfectly symmetrical).




Not the best photo by a long shot.