I've no idea what Mr. Groundhog predicted for people up north this winter, but down here his predictions are null and void.

We are STILL painting the house, and we are STILL having to stop at least once or twice each week due to rain. As it is, it's pretty impossible to paint for long periods of time due to the heat.

(And zero shade. There hasn't been a cloud in the sky on the sunny days)

. This heat literally makes you sick, and it isn't even officially summer yet!

Today, however, a cool front blew through and up until about 3:30 this afternoon the weather was lovely. Goodness, it was beautiful. I didn't mind painting at all with weather like that.

We have more rain coming - so common on the weekends - so we have to stop AGAIN. I just hope we'll finish with all this by Easter, because this is getting ridiculous.

Below are photos I've taken over the past month. I took some this week as well, but I'll share those another time seeing how if I share them inside this post, the page just might blow up from picture overload.



Eventually I'll get around to making a fairy house out of the log.

(The log I saved from our beautiful 60 foot tree that had to be cut down)

.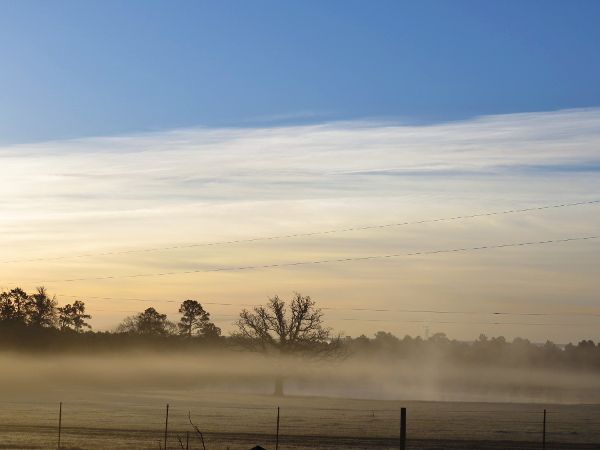 Is that FROST?!

Why, yes. Yes it is. Miracles DO happen!




The ladybugs are e-v-e-r-y-w-h-e-r-e right now. I'm constantly rescuing them from inside the craft building, and while painting the house I kept finding them on the ladder or on the house itself.

I love them!




Here's one old nest - of two - that we found tucked inside the jasmine blooming on the trellis.




To my utter amazement, I awoke one morning to find FROST outside. It was surprising because it really wasn't all that cold that night. It was definitely cool for a sweet change, but actual ice?

LOVED it! I only wish it hadn't melted so darned early. We ended up having another wickedly hot day after all.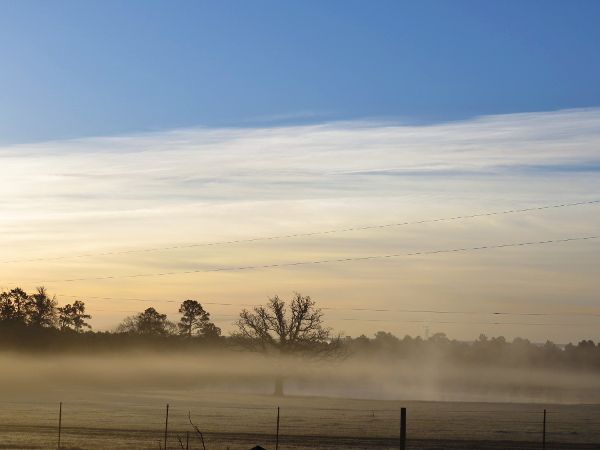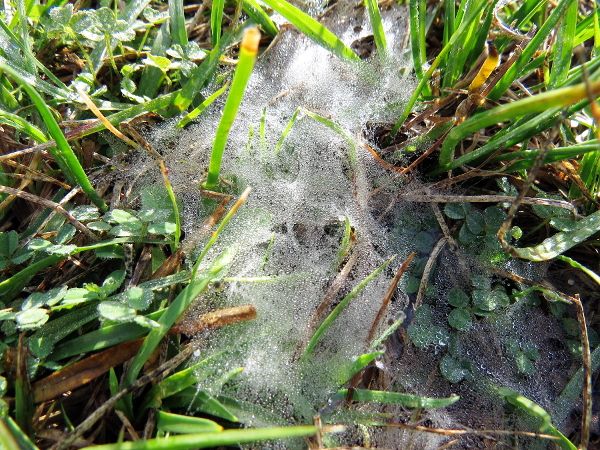 Does that not look like a face? It's funny, but creepy.

It reminds me of one of those prehistoric fishes called a Dunkleosteus.




Another "pattern" one of the dogs did with their babies. lol!




I wish they had shown up well in the photos, but I love the sweet yellow flowers blooming near the log.




"Hershey" isn't too happy on rainy days. "Pedro" on the other hand hardly seems to notice, seeing how he is always eating.

Not much seems to distract him from food.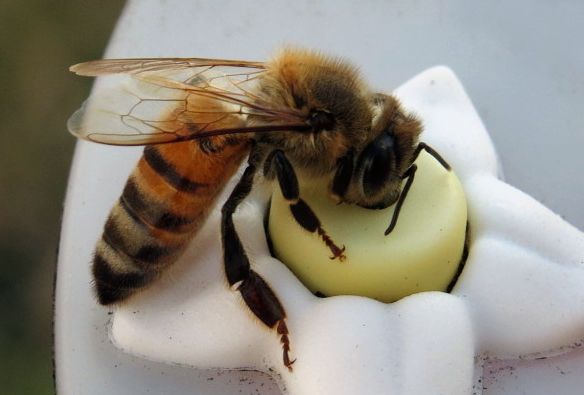 We've had loads and loads and LOADS of insects around here lately. Flies, bees, yellow jackets, wasps, scorpions... and as always spiders.

The other day some huge, black, fuzzy bug was trying to attack me. It was either a HUGE carpenter bee, or a tachinid fly. I didn't get too good a look at it, although I did hear it buzzing and it was definitely fuzzy and black. If it weren't for being so fuzzy, I'd think it was a horsefly.

(I've only seen one of those the one time, and they are huge. I'm not sure they're fuzzy though)

.




Abby loooves when it's time to play fetch with her pet rock each evening.

She's trained me well.




Nest #2






So far 3 calves have been born over at the neighbor's!

This video is of the first calf.

(Taken February 20th)

. One of the neighbor's dogs, "Walter," is trying to get it to chase him and play.

I found it pretty humorous - and impressive - that their dog pretended to graze along with the other cattle. Smart!