(Artwork: E.H. Davie)



A few days ago I took down the Valentine decorations inside the china cabinet and replaced them with the Easter decor.

Bunnies, lambs, chicks, birds and flowers: They're everywhere inside that cabinet, and while I do kind of miss the Valentine vignettes I'm rather enjoying what's in there now. We've acquired more Easter decorations, so this year I got to change things up a bit. I'm pretty happy with it.

I'll eventually get around to taking photos, but for now here are

(mainly)

pics of the flowers here at the front of the house.



We had quite the heavy rain showers late Friday afternoon.




After the rain stopped and the sun came out, so did the egrets. They do love the neighbor's pond.




A rainbow appeared after the rain left. It was difficult getting it to show up on the camera.

(It was already beginning to disappear by the time I saw it)

.




These little flowers are actually a soft lavender color.




When the rain was off and on, Mom noticed all the cow birds/starlings in the backyard.

I tried getting video of them through the windows but it was difficult because the windows were wet.

(By the time I took the pic above, they were gone)

.

I found that odd because just about an hour or so earlier I mentioned to her that I was surprised we haven't seen a lot of them come through as they have in years past.

(I had looked up that day, in my blog, that they visited us last year in February and September)

. I just thought the remarkable timing of their appearance as really strange.



Shown above is just one - of several - video I took of them back in 2015.

More of them can be viewed at the links below:

Of Blackbirds and Strange Phenomena
Crick Hollow Happenings
90 Degrees October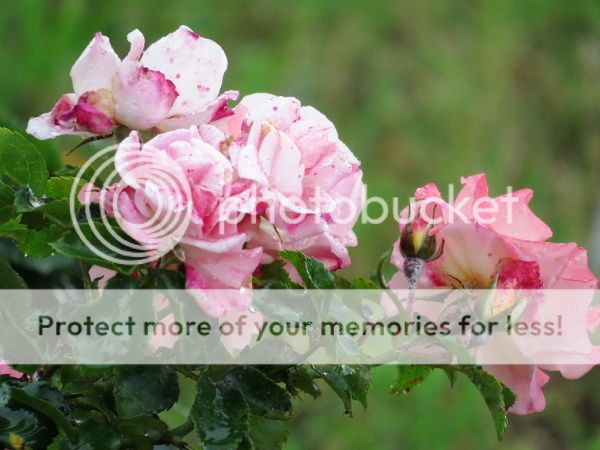 (Artwork: Lynn Horrabin)



I absolutely l-o-v-e that we saw a turkey the other day, especially considering that just a a few days prior I mentioned to Mom that it's been a long time since we've seen them.

The turkeys - and sometimes roadrunners - are often on this one same stretch of road. I think they're there because of the pond.

Even today we saw about a dozen of them while driving. I only wish I got it on film!