(Free Printable: Kerryanne English/Shabby Art Boutique)



- So last weekend another Mother's Day appeared on the calendar.

If you're still blessed to have a mother, and a wonderful one at that, on Mother's Day did you show your love and appreciation for her by picking up that phone and actually calling her?

(Opposed to sending an impersonal, hurtful 5 seconds text that is?)



If so, congratulations! You're a kind person. Here's a smiley-faced sticker and candy bar!





Yeah, sorry they're both virtual.

- This is funny. Last Wednesday Mom woke up with a phrase in her head.
It was "Pretty little flower, show your face to me." lol!



(Artwork: David Hall)



For my birthday - which fell on Mother's Day this year - I received the best present!

(I actually received it about a week earlier)

.

I've been needing to replace my little desk with something larger - for storage - and a while back I fell in love with an antique sideboard. I especially fell in love with the fact that you can only open the cabinet doors with a key!

That alone felt very "Victorian" to me - my heart song era - so I was pretty much in love with it the first second my eye fell upon that sweet little key.




The artworks above - both of them by David Hall - remind me of my birthday present.

It doesn't take much effort to imagine Tinkerbell trapped inside one of the little keyholes, searching for Pan's shadow.




Eventually, I think I'll stain it a darker color but for now I'm going to leave the color and use a stencil on the ovals to the cabinet doors.

I already got the stencil, too. It's of a bird on a branch. Since I don't wish to stain it just yet, I'm going to use a very light colored brown paint for the stencil. I want it to be barely visible and to look a little faded.

When I do finally decide to stain the whole thing darker, I'll probably use a black paint for the stencil.






- The man that was supposed to put in our driveway and sidewalks never showed up... twice.

(What is up with the 'services/businesses' around here? Do people in the country just have zero professionalism and integrity? I've lost count of how many times this has happened to us)


This means that we're going to have to do it ourselves. Oh, Joy!



- My mother got a really bad cough - very bronchitis-like - and even after going to the doc she's still under the weather after all these weeks.

It reminds me of when I got that persistent cough after going to Disney World. I had a persistent tickle in my throat for 3 months!

- My father had kidney stones and had to have a lithotripsy again.

- The heat index is insane right now, and probably climbing. Boo!!!!




- I heard a bunch of coyotes far off in the distance a while back, before sunset. They sounded like an Indian War Party whooping and hollering.

That night I doubt they did much venturing because we had buckets and buckets of rain.

- Why must the deer love our roses so much?

Remember the little fawn left on our front porch that day? Well it's Mama finally returned to pick up her kid at dusk, but not before eating all SEVEN roses on our BRAND NEW baby rose bush that we planted the previous week.

I swear the deer think of roses as we do M&M's or Pez candy. Ya can't eat just one.

To them, it isn't a rose tree.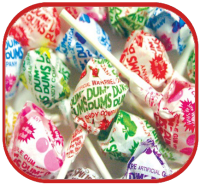 It's a lollipop tree, and our garden beds are Willie Wonka's Chocolate Factory.

To deter the deer we tied more bars of Irish Spring soap from our trees and rose bushes. I probably went a little overboard this time around, but I'm not taking any chances.

(I've learned that 'Deer Resistant' plants are oftentimes a myth, but a myth more real than say... the Loch Ness monster. lol!)



- A few days ago Mom saw a roadrunner in the front yard, and yet again I missed it.

- We've had TWO hailstorms recently; the last one this Tuesday.

While the hail wasn't nearly as large with this second storm, it was a lot worse. Last I heard the winds in our area reached at least 70 mph. It was pretty scary even though it didn't last long. We were really lucky that we were spared the tornadoes others received.

I haven't uploaded my own video of the storm yet, so here's one I found online of the storm in Austin.



So yep, it's been bonkers lately.

You know what's also bonkers? The fact that I have so many photos and videos to edit and upload. Once I'm done with all that, I think I'll get back into making siggies and wallpapers. I used to love doing those.





I couldn't believe my eyes when I saw a DUCK in the neighbor's tree one day!




Dad added leftover tin to the gazebo recently, to keep the snakes away, and Mom made the shades




Silly Girl. She loves hide-and seek.














Boy Howdy was this a long post. When I make up for not blogging for a while... well, I make up for not blogging for a while! And this is only Part 1.

Jeepers!